Richie Baxter: Exeter Chiefs forward to end playing career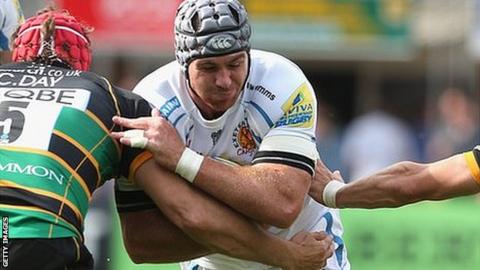 Exeter Chiefs' record appearance holder Richie Baxter has decided to end his playing career after Saturday's Premiership match against Gloucester.
The 34-year-old will play his 431st game for the Chiefs this weekend.
And he feels it is the right time to retire, bringing to an end his 16-year spell at Sandy Park.
"I'm very comfortable with my decision - it's not often players get to leave at the top of the game," the flanker told BBC Radio Devon.
"I think when I signed my contract two years ago I thought this would be my last, but that's not to say I was planning to retire, I was going to see how I felt.
"I didn't want to get to the stage where I wasn't enjoying training, playing rugby and it becoming a chore.
"I feel the time is right, and I'm looking forward to going back on the family farm."
The former England Under-21 international was part of the Exeter side that clinched promotion to the top flight of English rugby in 2010 and has since helped the club stabilise in the Premiership and taken part in this season's Heineken Cup campaign.
"I feel very proud to look back on my career and the things that Exeter have achieved," Baxter said.
"The main highlight of my Exeter career was getting the club up into the Premiership, and then seeing the club going from strength to strength there has been fantastic."
Elder brother Rob, 42, took on the head coach role at Sandy Park when his playing career came to an end, but Richie is unsure whether he will follow a similar path.
"I'm just going to have a break from the game at the moment and see what happens," he added.
"I'm not going to say that's me definitely finished with rugby because I'm not sure how much I'll miss it yet.
"But I'm just going to take it as it comes for the first year or so and just see how it goes."