Nottingham sign Matthew Jarvis and Neilus Keogh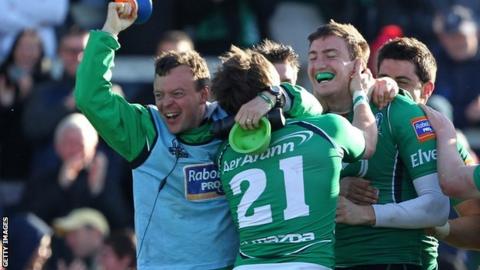 Nottingham have completed the double signing of versatile Connacht back Matthew Jarvis and second-row forward Neilus Keogh from Italian side Lazio.
Jarvis, 22, is a Wales Under-18 and Under-20 international who can play at fly-half, centre or full-back.
Keogh, 26, joined Lazio from Leinster in 2012 and has played for Ireland's Under-19 and Under-20 teams.
Head coach Marin Haag said: "Both are very exciting prospects who want to be part of Nottingham Rugby's future."
Haag added: "Matt is an excellent prospect who has Heineken Cup and Rabo 12 experience. Similar to Jimmy Arlidge, Matt has good control of the game and is a sharp goal-kicker.
"He has the ability to take the line on, and importantly he wants to get on board with us as we continue our journey. He is a player that has the character and skills needed in a key position."
"Neilus is a mobile big man who is good in line-outs and has great handling skills. He is the type of player that will fit in well to the squad both on and off the field."
Jarvis said he was "excited to be joining a club of great ambition".
He added: "It is a fantastic and very professional set up at Meadow Lane and I want to be part of the club's success and help them move forward.
"I've had a great time with Connacht and enjoyed some amazing opportunities this season in the Heineken Cup, which is the pinnacle of club rugby."
Keogh added: "Nottingham are enjoying great success this season and the ambition they have is exciting.
"In less than a year Martin Haag has had a big influence and he is someone that I'm really looking forward to working under."