Cornwall face 'tough' County Championship group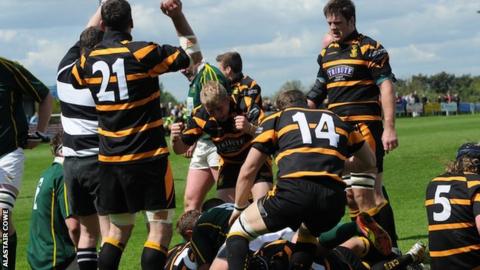 Cornwall coach Dave Thomas says this year's County Championship group will be a very difficult for his side.
The Duchy face champions Hertfordshire, followed by Kent and Gloucestershire as they bid to make Twickenham for the first time since 2001.
They begin with a trip to Gloucestershire with a squad that is largely made up of Redruth and Launceston players.
"It's a tough old group this year," Thomas told BBC Radio Cornwall.
"Gloucestershire were almost eliminated form our pool, but only survived in the dying moments to stay in the league.
"Kent, who were in two years ago and went down immediately, have been recruiting like mad and they don't intend to go down this time.
"And obviously Herts are the county champions and they'll come down with all guns blazing to get back to Twickenham again and retain their championship."
But Thomas is confident that his team will be able to be competitive in their 2013 campaign.
"We have got a decent side, we're possibly two or three players short, but what we've got out on the field is our strongest possible team," he added.
"I think we'll be really formidable up front, which is always the case with Cornish sides and we've got some very good backs so we're quite well balanced.
"Given the right run of the ball I think we'll be OK."