Gloucester World Cup status could 'attract players'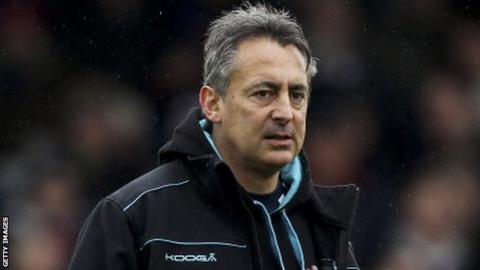 Gloucester director of rugby Nigel Davies has said Kingsholm's status as a venue for the 2015 World Cup could attract more players to the club.
Kingsholm was announced on Thursday as one of 13 host stadiums.
Davies told BBC Points West: "The fact that our squad will be playing its home fixtures in a World Cup venue adds to what we are.
"And the fact it's a World Cup venue will maybe attract players to us as well."
Scotland, Tonga and Argentina are among the teams that will play at Kingsholm in 2015. The only other Premiership ground on the list of venues is Sandy Park in Exeter.
Davies continued: "It's a great fit to have the World Cup come to Kingsholm and to Gloucestershire. This stadium is second to none in terms of the atmosphere that can be generated.
"One of the things we have got is passionate supporters and they deserve to be part of the World Cup. This is a special place when we get it close to full and I've no doubt that every game will be packed because there's a huge passion for rugby in Gloucester.
"The passion will come across on TV and will put us on the map worldwide and people will want to come and see what Kingsholm is about.
"The investment that's gone into this place over the last several years justifies its inclusion as a World Cup venue. It's intimidating and has a unique feel to it."
Gloucester scrum-half Jimmy Cowan, who won the 2011 World Cup in his native New Zealand, said international teams would face a knowledgeable and passionate crowd at Kingsholm.
"I've been very fortunate to travel around the world with my rugby and I know first-hand that people here certainly know their rugby inside out," Cowan said. "It's a great place to play.
"It's a real party atmosphere come the World Cup - we had four million people partying for six weeks in New Zealand. I imagine there will be the same scenes here and I hope I'm around in 2015 to experience it."