Scotland: New national rugby head coach search concluded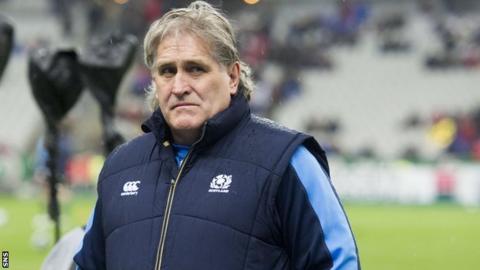 The Scottish Rugby Union has appointed a new national team head coach but will not name him until the end of May.
On Friday, the SRU announced that interim head coach Scott Johnson would take on the role of director of rugby.
Johnson led the side in this year's Six Nations Championship after the departure of Andy Robinson in November.
SRU chief executive Mark Dodson said: "We have concluded our search for a head coach and will announce that in coming weeks."
Dodson admitted that the new coach was under contract at another club and told BBC Scotland that the coach was not local.
"I think it's safe to say he's not from Scotland," he said.
Johnson will take charge of the team's summer tour of South Africa.
The 50-year-old Australian joined the Scotland staff as attack coach but ruled himself out of taking the head coach's job on a permanent basis.
However, Dodson insisted he was delighted Johnston would remain in the director of rugby position.
"When we discussed the whole structure we wanted to put in place to take Scottish rugby forward over the next 10-15 years, it was clear the director of rugby role was integral to fulfilling the aims we've got," he said.
"And, when you looked at his qualities and experience, he was a perfect fit."
Dodson also maintained that the new structure in place at Murrayfield was the right one to make Scottish rugby prosper.
"I think we're very much on our way," he said. "I think we've worked very hard on the structure.
"We had to get these appointments right. We've taken our time, we've had lots of due diligence and we've settled on, I think, the right blend."