Ulster's Luke Marshall out of Ireland tour of North America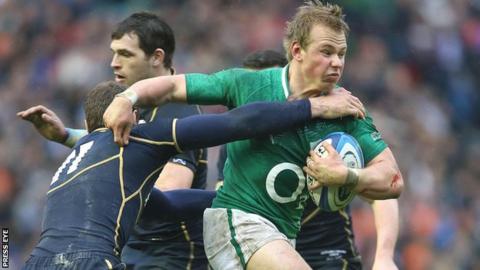 Ulster centre Luke Marshall will miss Ireland's tour of North America next month after suffering concussion in three successive games this season.
Marshall, who won the Pro12 Young Player of the Season award on Sunday, has not played since the Heineken Cup defeat by Saracens last month.
"Maybe a couple more knocks on the head so soon after the ones I've had could lead to problems," said Marshall.
"Basically, I've been told to take the summer off and come back next season."
The 22-year-old made his Ireland debut against Scotland in this year's Six Nations and made three appearances in the tournament.
Ireland take on the United States on 8 June before playing Canada on 15 June.
"I don't think the medics are too worried," Marshall told the Belfast Telegraph.
"Obviously they wouldn't want me to be getting another couple of bangs for a while, but I think it's just precautionary.
"I haven't had any headaches or dizziness and my balance is all right so that's all good.
"While every Ireland game is important, some are more important than others and I think they reckoned it wouldn't be the end of the world if I missed these couple at the end of the season."