Full-back Glenn Bryce to leave Jersey after two seasons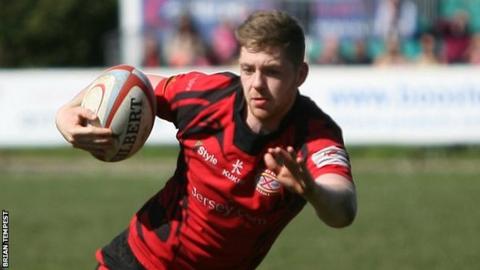 Jersey full-back Glenn Bryce says he is leaving the Championship club.
The 21-year-old former Scotland Under-20 international has spent two seasons at the club, during which he helped them to promotion.
He played 34 league games for Jersey, scoring nine tries, after
Despite telling the BBC after the Siam Cup win that he was 'still in negotiations', he revealed on Twitter that his time in Jersey was over.
"It's been amazing met some awesome ppl along the way thanks for everything #jersey #onWardsAndUpWards #goodBye," he tweeted on Monday.
Bryce, who has been out of favour at St Peter, went out on a high as he helped the island side
The Scot played only two games in 2013 after being a regular in the side up until Christmas.
"It's a good club, the crowds are unreal and it's always a real buzz playing for Jersey," he told BBC Radio Jersey.
"I've enjoyed every minute of it. It was my first year in the Championship and I'm just so chuffed that we managed to stay up in the end.
"It's been a good all-round season and I've made some great mates for life," he added.