Pro12: Scarlets will be stronger for play-off loss - Easterby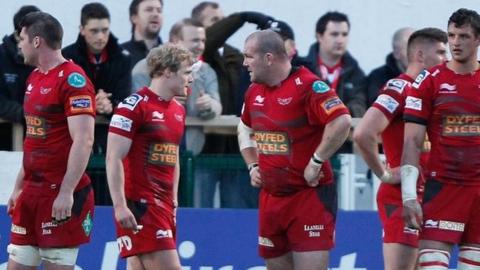 Scarlets head coach Simon Easterby says the region will not miss another chance to reach a Pro12 play-off final.
28-17 in their debut semi-final at Ulster on Friday.
And while unhappy at the match officials, Easterby was equally unimpressed by the performance of his own players.
"If we get the opportunity again I'm sure we won't let the opportunity pass us by," said the former Scarlets and Ireland flanker.
The Scarlets also lost five players to injury during the game, including Wales summer tour squad members Ken Owens, Rhys Priestland, Liam Williams and Scott Williams.
Easterby said the injuries were disruptive, but believes his side could have given a better account of themselves as they sought to bounce back from a heavy
"We'll be stronger for this experience," said Easterby.
"We probably didn't give a fair account of ourselves [against Treviso] and then the first 60 minutes [against Ulster] so I think we understand a lot of what's gone on, but it was down to a lot of our failings.
"I think it ran away from us from the start. We were far too high in our errors and our penalty count.
"We went in half time - they had three penalties against them and three turnovers; we had nine penalties against us and about 15 or 16 turnovers.
"So a lot of their game came from our error.
"We did get back in the game and we managed to finish the game the stronger side, but we probably just gave them too much of a head start."
Easterby was also unhappy with Irish referee Alain Rolland and his fellow officials.
Ulster prop Tom Court's try was awarded by Welsh video referee Huw Lewis and Easterby believes he player had been brought down short of the line.
"We felt that the TMO decision was questionable and that obviously wasn't Alain Rolland's decision, but I'm not sure what he asked them to look at because the video replay looked like he [Court] was short of the line when he gave the try.
"And then there was a couple of other areas in the contact area - they were just indifferent calls and we probably didn't get a consistency which you'd expect from a referee of his quality and experience.
"And then, near the end we had a ball kicked out of a scrum.
"But I'd hasten to add we're more concerned about ourselves and all we can ask for then is consistency with the officiating.
"Then it's down to yourselves to get everything right in your own game and we probably didn't do enough of that."