Cardiff Blues seek approval for artificial pitch at Arms Park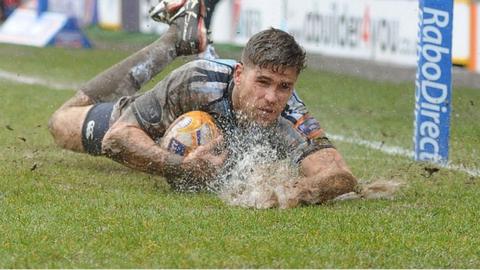 Cardiff Blues are hopeful of having an artificial pitch in place for the start of the 2013-14 season.
Chief executive Richard Holland confirmed the region are seeking permission from the Welsh Rugby Union to replace the Cardiff Arms Park turf.
"There are t's to cross and i's to dot, but hopefully we'll be good to go for next season," said Holland.
The poor quality of the Blues' pitch has drawn criticism since the region's return to the stadium in 2012.
They had previously shared the Cardiff City Stadium with the Welsh capital's football team, but returned to rugby's traditional home in the city after poor attendances and pressure from fans.
Holland acknowledged that the Arms Park pitch is not up to the standard required for modern rugby.
"We have Lions backs and world-class youngsters, but they can't run in mud," he said.
"We are part of the entertainment industry and we can't expect fans to pay £15 or £20 or buy a season ticket."
The Blues took part in the first professional rugby match to be played on Saracens' artificial pitch at Allianz Park in January this year, and the region's management were impressed with the surface.
Holland said the region had spoken to suppliers about the installation of a plastic pitch at a cost of around £400,000.
"The pitch has to be approved by the International Rugby Board and the WRU, and I can confirm we are applying to the WRU for permission to go ahead with the pitch," he said.
"There are also financial issues to be finalised. There are still a couple of hurdles to overcome and we have a board meeting on 22 May and by then hopefully we'll be good to go."
Provided the region are given approval and can agree a financial package with the pitch suppliers, work could start in early June.