Leeds Carnegie: Diccon Edwards proud despite defeat by Newcastle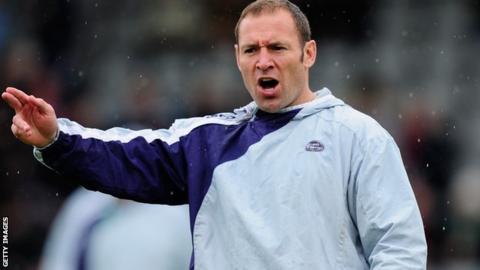 Leeds Carnegie coach Diccon Edwards said his side can "kick on" after defeat by Newcastle Falcons in the Championship play-off semi-finals.
Carnegie lost 34-30 on aggregate after being beaten 15-6 at Falcons on Sunday.
"I'm bitterly disappointed because I thought our effort was unbelievable," he told BBC Radio Leeds.
"We're not far away and we shouldn't let a short-term disappointment mask our fantastic achievement. Now we can kick on knowing what is required."
He added: "We've learned so much this year and the key for us is the continuity we've been able to establish going into next season.
"Newcastle are a Premiership outfit in every way, shape and form and we've been able to back up our performance levels in the last two games.
"We can hit the ground running going into next season and hopefully finish top of the table."
Leeds finished 31 points behind the Falcons in the regular season but put in an impressive display in the first leg at Headingley to win 24-19.
Edwards felt individual errors contributed to their defeat in the second leg at Kingston Park.
"Newcastle's approach was effective if not always expansive and credit to them," he said.
"We made a couple of unforced errors and the conditions made us drive the ball from the line-out more than we'd wanted to.
"When we had the opportunity with the ball we weren't quite clinical enough."
The Falcons will face Bedford in the two-legged play-off final.