Gonzalo Camacho hopes to stay in Britain after Exeter contract ends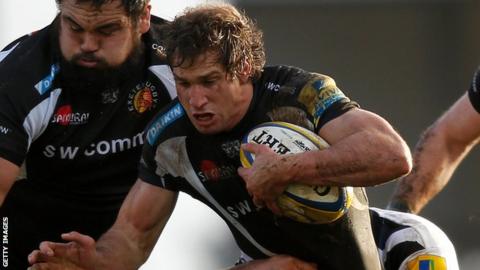 Argentina international winger Gonzalo Camacho says he is hoping to stay in the UK after his Exeter contract ends.
The 28-year-old has been linked with a move to Leicester after not being offered a new deal following with the Chiefs signing and
"I'm very comfortable here in the UK, so hopefully we'll play again next season," he told BBC South West.
"I'd like to stay in the UK. That'd be a good move for me."
Camacho's time at Exeter has ended on a low note, with him failing to feature since the club's
His lack of games has coincided with the and the continued good form of Matt Jess, as well as Watisoni Votu joining the club.
"I had a small injury after the Clermont game and from there I didn't play anything," Camacho explained.
"I was disappointed but you have to man up and do the job. It's not about you, it's about others who are here. You have to carry on doing what you do and train.
"It's not the best thing when you aren't playing, you always want to play. But it was the chance for other players and Matt Jess and Jack Nowell have made an incredible impact and incredible improvement in their game.
"I tried to support them in everything they did because it's a team game and if you're not in the team you have to support from the outside. That was the role which occupied me for the second part of the year."
Camacho is unlikely to be involved in the Argentina squad that faces England this summer. Instead it is likely he will be part of his country's Rugby Championship team that will face South Africa, Australia and New Zealand.
And he believes his time at Exeter has helped him improve a number of aspects of his game.
"My kicking game, the grubbers and long kicking over distance, have improved," he said.
"I'm knowledgeable now when to do it and when not to do it - when the space is there and when not.
"Also the different types of line that you can run - here in Exeter we have a type of game plan in attack no other team has."