Plymouth Albion sign backs Pale Nonu and Ben Woods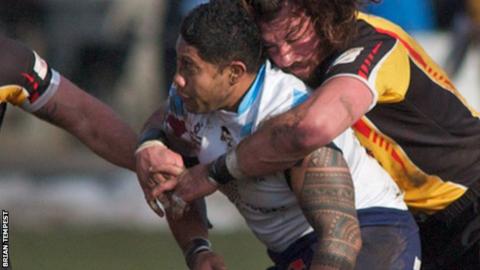 Plymouth Albion boss James Shanahan has made his first additions to the side since taking over the club, capturing Rotherham's Pale Nonu and Ben Woods from Irish side Old Belvedere.
Centre Nonu, 34, is the brother of New Zealand international Ma'a Nonu, and has and Mounts Bay.
Woods, who is 23 years old, can play at centre or full-back.
He has represented Leinster's Under 20 side and their 'A' team.
"With Bevon Armitage and Paul Roberts retiring and being released, we needed to get some strength in depth in the midfield," Shanahan told BBC South West Sport.
"With Nonu I basically wanted some power and physical element to replace Bevon, with Woods, it was a bit of versatility.
"Both are very talented players, Nonu has three years experience is the Championship with Rotherham and Ben Woods is coming out of Leinster playing 'A' games and Ireland 20's and is very talented.
"You don't get many bad backs coming out of the Leinster set-up. They've probably been one of the best back lines in the world for the past two or three seasons.
"I'm looking forward to working with both of them."