Lions 2013: Adam Jones tells Welsh players to mix with squad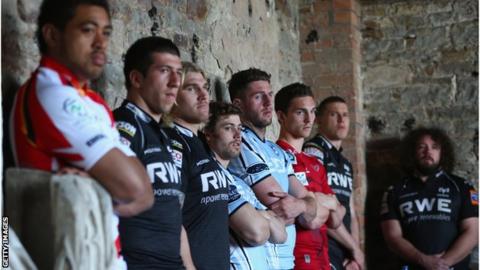 Wales prop Adam Jones has urged his compatriots to embrace the Lions bonding process as the squad begin preparations for their Australia tour.
Jones is one of 15 Welshmen in the squad, with nine getting their first Lions experience this week at the first of two pre-tour camps.
"Welsh players used to be notorious for sticking in their groups and it is new for some of the boys," said Jones.
"But you just want to chat to everyone, not in your room playing on your iPad."
Tight-head Jones, 32, enjoyed a successful tour of South Africa four years ago, playing an influential role as a replacement in the first Test and starting the second as part of the first all-Welsh Lions front row since 1955, before a shoulder injury ended his tour.
He added: "It is quite easy because there are 11 of us from last time and half the backroom staff as well. Everyone is very professional and we just want to crack on with it."
Jones travelled to London on Monday with the rest of the Welsh contingent for an initial Lions' gathering, and noted the nervousness and excitement among those making their first tour.
"It brought back memories of the last one and reminded me how special the Lions concept is," he said.
"Even if you've been before it is still a massive deal. It's the biggest thing you can do as a British player, and you have got to enjoy it and embrace everything that goes on, off the field as well.
"I have always found beer is the best thing for these sort of things to be honest. I think people get caught up with team-building exercises but if you lock 35 guys in a bar, I think that is probably the best way.
"You soon loosen up and speak a bit more. Then again my idea of bonding is probably totally different to Sam Warburton's or George North's."
The 22 members of the squad not involved in European or domestic finals began the first of two pre-tour training camps at Wales' usual base in the Vale of Glamorgan on Tuesday.
It is the start of a period where perceptions of players from other countries can be swiftly eroded, according to Jones.
"I had played against [England prop] Andrew Sheridan quite a bit and we clashed at times, and then I was told he was my first room-mate," he recalled of his experience in 2009. "But he was the best room-mate you could have, and a great guy as well.
"[England flanker] Joe Worsley was someone I had an opinion of based on nothing. But he was a really good guy and a talented pianist. He kept the boys entertained in a few hotel lobbies.
"I am sure people have pre-conceived ideas about me too. Sometimes you can think a player is a right so-and-so and then when you play with him it is totally different."
Jones cites England hooker Dylan Hartley as one player he is looking forward to having on his side, rather than in opposition, over the coming weeks.
"I have played against him a few times and he always seems quite confrontational so it will be interesting to play with him," said the 88-times capped prop.
Like Northampton's Hartley, Leicester's Dan Cole will be involved in the Premiership final on 25 May, leaving Jones and Matt Stevens, a Lion in New Zealand in 2005, to compete for the number three jersey for the opening match against the Barbarians in Hong Kong on 1 June.
"I have played against Matt a few times in the past," Jones added. "He obviously offers something different to myself and Dan. He has played well this season so he deserves his place.
"They are both good players and everyone starts off with a clean slate. Nobody can take anything for granted."