Plymouth Albion boss James Shanahan targets forward signings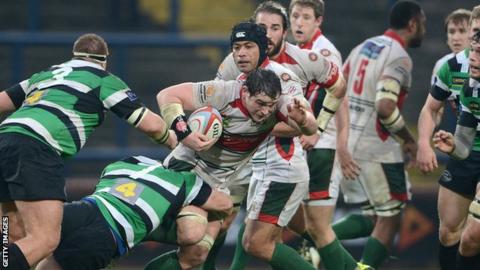 Plymouth Albion head coach James Shanahan says bolstering the club's forwards with experienced players is one of his main priorities.
The Championship side have seen the likes of Wayne Sprangle, Rupeni Nasiga, and leave this summer.
"It's quite a young pack from last year," Shanahan told BBC South West.
"To bring in a couple of key experienced players will definitely help us in the long term," he added.
Albion's backs have been boosted with the signings of while and have all signed new deals.
But Albion's new boss, who does not start full-time at the club until next month, says he will not rush into making any signings.
"There's lots of players out there and lots of agents throwing players CVs, videos and YouTube highlights in," he explained.
"At the moment there's going to be no rash or quick signings.
"We want to make sure who we bring in is the right person and will be able to play in the style I want.
"We want to try and have 28 full-time contracted players and a couple of part-timers, and with the help of Exeter and the dual-registered players we'll be running a squad in the mid-30's.
"We'll need that strength in depth to cope with week-in week-out Championship rugby."