'We won't bankrupt WRU' over salaries, says David Pickering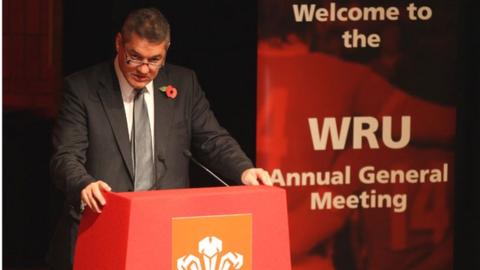 Chairman David Pickering says he is not prepared to "bankrupt" the Welsh Rugby Union to keep top players in Wales.
The WRU has offered to centrally contract the "entire international squad of players within Wales".
But Pickering says the salaries on those contracts would not compete with those offered by French clubs with budgets of "26 to 28 million euros".
"I'm not prepared to enter into a position where we bankrupt the Union - I will not do it, it's wrong," he said.
British and Irish Lions tourists Jamie Roberts and Dan Lydiate are the latest Welsh players to opt to play in France.
The pair will move to a French club, understood to be Racing Metro, once they return from the Lions tour of Australia.
They will join fellow Welsh internationals Mike Phillips, James Hook, Luke Charteris and Lee Byrne who are already based in France.
Other high-profile Welsh internationals have moved to play in the English Premiership, most notably wing George North who has left Scarlets to join Northampton.
That transfer sparked a row between the WRU and Regional Rugby Wales - the body that represents the four Welsh regions - over the funding of the domestic game.
The four Welsh regions each receive £1.5m a year from the WRU, and operate a self-imposed salary budget cap of £3.5m a year.
The regions and the WRU are due to meet to discuss the problem, with the Union having offered central contracts for Welsh international players, a move so far rejected by the regions.
Pickering says the Welsh domestic game is the victim of market forces which it cannot control.
"We'd rather all the best players play in Wales," said the former Wales captain.
"But there's a big, bad market out there and it's primarily fuelled by the French clubs who have got massive budgets - 26-28 million euros a year - and they're spending a considerable amount of that on players.
"When a player is offered half a million [pounds] by a French club as a package it's very tempting for them and you can understand their consideration. A sporting life is a short life.
"What we can't do, because we haven't got the resources, is to compete with that at a regional level, we couldn't fund that."
Pickering claims that the success of Wales on the international stage proves that pouring money into the domestic game does not guarantee success, and can even weaken a national set-up.
"I think something like 65% of the players at the top French clubs are foreigners," he added.
"We don't want that. We've put rules in place in Wales to ensure that we limit our foreign players and then you correlate that with national team success.
"France, despite of all the money they're spending on their players, pick up an unenviable position in the Six Nations [last place] and we [Wales] are winning it. And we've done that several times in the past few years.
"There isn't a correlation between buying in huge quantities of foreign players and international success.
"What we will try to do is keep the talent in Wales because that's what we want to do, but we're not bankrupting ourselves."