Plymouth Albion's Sam Matavesi reflects on Fiji call-up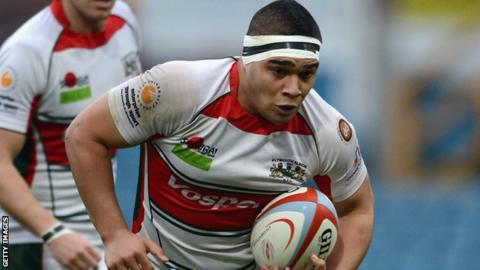 Receiving your first national call-up is a great honour, and often it comes as a surprise too - especially if you have started just five games all season in the second tier of English rugby.
However, it must be even more of a shock when you have only been to the country you are playing for once, and that was on a family holiday more than a decade ago.
But that is what has just happened to Plymouth Albion's Sam Matavesi, who is now preparing to head off to Asia for four matches in the colours of Fiji.
"It started off a month before the end of the season when I had some contact from the head coach of Fiji," Matavesi told BBC South West Sport excitedly. "He asked me if I was selected would I play and I said 'yes, of course'."
But behind the 21-year-old's broad Cornish accent is a South Pacific heartbeat.
His brother is who has already won six caps for Fiji, although neither has ever played on South Pacific soil.
For the Matavesi brothers their journey to the realms of international rugby has been a long one, both for them and their family.
"My dad captained a Fijian team over here in the 1980s and his last game was against Camborne," Matavesi explained.
"So when he went back to Fiji he got in touch with Camborne and Camborne brought him over and he worked in the mines.
"This is where he's been ever since, and he's only been back once for a holiday.
"I'm a very proud man from Camborne and, to be honest, I have no idea what's going to happen and what to expect.
"It's weird - everything's going so fast and on Monday I'll be on my way to Fiji."
Matavesi's journey to international rugby has been almost as long as the 7,367-mile journey from Camborne and Suva.
He began his career at Plymouth Albion as an 18-year-old in 2010, but failed to settle.
"What they needed was experienced players, I was 18 and really fresh so it wasn't for me," the flanker said.
He went back and played for his hometown club before spending a bit of time in Paris with Racing Metro after before
Now, having never played a top-flight game, Matavesi has eyes on the biggest event of them all.
"I had a chat with the head coach of Fiji and he wants to see as many players that are going to be in contention for the World Cup as he can," Matavesi said.
"That's the plan, to be at the World Cup, and the best thing is it's over here in England which is scary."
Matavesi returns to Fiji for the first time since a family holiday in 2001 as he prepares for his country's game against Japan.
It is part of a four-game series in the Pacific Nations Cup with games against Canada, Tonga and the USA to follow.
And as Matavesi prepares to leave for the other side of the world, he hopes the experience can benefit him back in England in the future.
"I know everyone says it, but you have got to take every game as it comes and just enjoy the tour," he added.
"In any way it's a massive experience and hopefully I can come back to Albion a better player for it."