Richard Bright backs Cornwall defence for Hertfordshire clash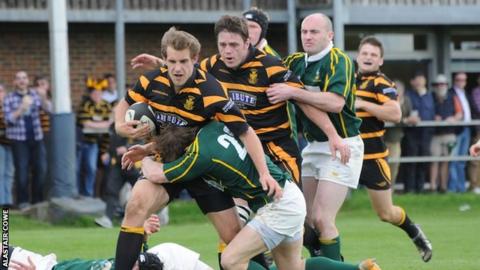 Cornwall winger Richard Bright is confident his side's defence can hold out against Hertfordshire.
The Duchy host the reigning county champions in a winner-takes-all clash at Camborne as both sides aim for the final at Twickenham.
Herts have scored 106 points in their two wins in the southern section.
"No matter how good an attacking force that comes at us, with the defensive performances that we've put in, we've got nothing to fear," Bright said.
Hertfordshire have beaten Kent 50-26 and Gloucestershire 56-22, while Cornwall have had much closer wins over them.
"Scoring 16 tries in two games, they love to attack and the tries have come from everywhere," Bright told BBC Radio Cornwall.
"We're going to have to go into this game defending how we have done and backing ourselves in the attack."
But the Launceston winger, who scored nine tries this season, says the home support at Camborne could make all the difference for Cornwall.
"With the 16th man in the crowd hopefully it'll carry us over and we'll come back with the win," he added.
"It feels absolutely amazing running out to that crowd.
"We want to make the Cornish crowd proud of us and the only way to do that is to give 110% and give everything we've got.
"If we do that then I'm confident we'll come away with something."