Cornwall joy at reaching County Championship final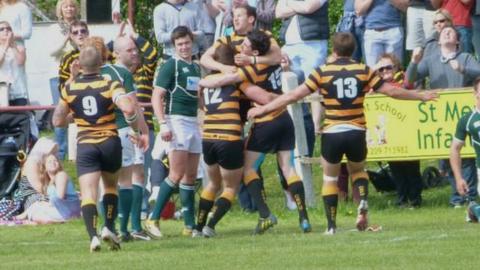 Cornwall boss Dave Thomas says he is proud after his side's 41-29 win over Hertfordshire to reach their first County Championship final since 1999.
The Duchy scored six tries against the reigning champions as they turned around a five-point half time deficit.
"It's absolutely fantastic, what a day for Cornish rugby," Thomas said.
"We had a few words at half-time, but in the second half the boys really had their tails up and really tore into the Hertfordshire side," told BBC Cornwall.
Hertfordshire took the lead after just 80 seconds through Sam Winter, before tries from Sam Hocking and Greg Goodfellow put the black and gold 12-10 in front, but Stefan Liebenberg's try put the visitors 17-12 up at half time at Camborne.
Two tries early in the second half from Richard Bright and Jake Murphy set the home side on their way as they went 27-17 up.
But Herts came back again, with Liebenberg's second try getting them within three points before a penalty try put the Duchy 34-24 ahead.
Liebenberg completed his hat-trick to narrow the gap late on, before Paul Thirlby's stoppage-time try clinched the match and a chance to win the Bill Beaumont Cup on Sunday against Lancashire at Twickenham.
"It was pure guts and endeavour at times and we reaped the rewards of it," Thomas said.
"In the second half they knew they were on a winner. It was like days of old with the crowd, it was brilliant.
"Sunday will be another fantastic day for rugby in Cornwall. These boys from local club, this is the platform that every body wants to appear on at Twickenham and they're going to do that."
Hertfordshire boss James Shanahan, who has just taken over as head coach at Plymouth Albion, felt the opening exchanges of the second half set the tone for the rest of the game.
"Cornwall came out in that first 10 minutes and they just battered us," he said.
"That gave them the momentum and that basically won them the game.
"We scored some great tries, probably left a few out there, but Cornwall did the same.
"It was a great game. Fair credit to Cornwall, good luck to them at Twickenham," he told BBC Radio Cornwall.