Sarah Hunter to lead England on New Zealand tour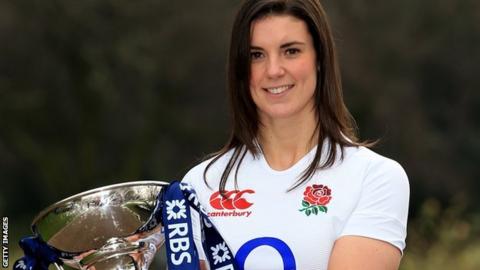 Lichfield number eight Sarah Hunter will captain England women on their three-Test tour to New Zealand in July.
Having skippered the team to a third-place finish in the 2013 Six Nations, Hunter retains the armband, despite the return of Darlington Mowden-Park Sharks fly-half Katy McLean from Sevens duty.
It will be the first time England women play the reigning world champions in New Zealand since 2005.
The first Test will be played at Eden Park on 13 July.
The tour marks the start of England's preparations for the 2014 Women's Rugby World Cup in France.
England head coach Gary Street said: "Unquestionably this is a hugely important tour as we countdown to the Rugby World Cup.
"Playing at big stadiums like Eden Park and in front of big, passionate, rugby-mad crowds, as well as taking on the world champions, will provide me with an invaluable opportunity to access where we are 12 months out from the World Cup."
England have lost to the Black Ferns in three successive World Cup finals - 2002, 2006 and 2010 - but travel to New Zealand on the back of two consecutive series wins in England in 2011 and 2012.
Saracens flankers Maggie Alphonsi and Hannah Gallagher, Worcester full-back Danielle Waterman, Lichfield scrum-half Georgina Gulliver, Richmond hooker Amy Turner and Richmond full-back Fiona Pocock all miss the tour through injury.
The first Test, at New Zealand's largest rugby union stadium, the 50,000-capacity Eden Park, takes place on 13 July, with the second on 16 July at Waikato Stadium and the third on 20 July at the ECOlight Stadium.
A different 30-woman squad has also been named to travel to Denver to play in the Nations Cup against Canada, the United States and South Africa in July and August.
England assistant coach Graham Smith will be promoted to head coach for the trip to the United States, where eight players are set to make their England debuts.
England squad for New Zealand series
Emily Braund (Lichfield), Rachael Burford (Thurrock), Rochelle Clark (Worcester), Emma Croker (Richmond), Heather Fisher (Worcester), Victoria Fleetwood (Lichfield), Sophie Hemming (Bristol), Natasha Hunt (Lichfield), Sarah Hunter (c) (Lichfield), Laura Keates (Worcester), La Toya Mason (Wasps), Francesca Matthews (Richmond), Alexandra Matthews (Richmond), Joanne McGilchrist (Wasps), Katy Mclean (Darlington Mowden Park Sharks), Katherine Merchant (Worcester), Harriett Millar-Mills (Lichfield), Kate Newton (Bristol), Marlie Packer (Bristol), Amber Reed (Bristol), Alice Richardson (Richmond), Emily Scarratt (Lichfield), Michaela Staniford (Wasps), Tamara Taylor (Lichfield), Sally Tuson (Bristol), Joanne Watmore (Worcester)
England squad for Nations Cup
Claire Allan (Richmond), Rowena Burnfield (Richmond), Lauren Cattell (Saracens), Abigail Chamberlain (Richmond), Rochelle Clark (Worcester), Emma Croker (Richmond), Fiona Davidson (Richmond), Rebecca Essex (Richmond), Victoria Fleetwood (Lichfield), Fiona Fletcher (Lichfield), Mercedes Foy* (Thurrock), Megan Goddard* (Worcester), Sarah Hunter (c) (Lichfield), Charlotte Keane* (Worcester), Laura Keates (Worcester), Ceri Large (Worcester), Ruth Laybourn (Darlington Mowden Park Sharks), Justine Lucas* (Lichfield), Harriet Millar-Mills (Lichfield), Kate Newton (Bristol), Isabelle Noel-Smith (Bristol), Claire Purdy (Wasps), Leanne Riley* (Saracens), Georgina Roberts (Darlington Mowden Park Sharks), Zoe Saynor* (Bristol), Abbie Scott* (Darlington Mowden Park Sharks), Emily Scott (Thurrock), Lydia Thompson (Worcester), Kay Wilson (Bristol), Amy Wilson-Hardy* (Bristol)
* Denotes uncapped player