Lions 2013: Jonny Wilkinson happy to answer injury call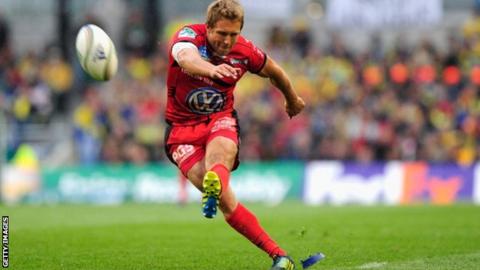 Jonny Wilkinson has said he will do everything possible to be fit enough to answer a Lions injury call should he be needed for the tour of Australia.
The 33-year-old was named European Player of the Year on Sunday after helping Toulon win the Heineken Cup.
"I've been asked if I'll be an injury replacement. I've said 'quite happily'," said Wilkinson.
"I'm happy to give it all I've got. If I can physically front up to being there if there's an injury then great."
Wilkinson, who kicked 11 points in the 16-15 Heineken Cup win over Clermont on Saturday, was initially offered a place on the tour of Australia by coach Warren Gatland, but the veteran fly-half wanted to concentrate on playing for his club.
England's 2003 World Cup winner said in April his "absolute priority" was with Toulon and club commitments meant he would not be available for the Lions' opening tour match.
Toulon play in the French Top 14 semi-final on Friday, with the final on the same day as the Lions play the Barbarians in Hong Kong on 1 June.
"I appreciate that everyone needs to be together [on the flight] and I certainly can't guarantee that," said Wilkinson.
"Let me get to the end of the season and see if I'm not the one who needs replacing, rather than the one who goes out there.
"I can't guarantee the state I'll be in. The body is getting to the state where I am trying to stay [at this level]."
Former Wales captain Jonathan Davies had said taking Wilkinson on the tour would be a "backward step".
But Wilkinson, who retired from England duty in 2011, said: "As a proud sportsman you always disagree with that because you always believe you can add something.
"In 2001 [the Lions tour of Australia] there were older guys like Scott Quinnell, Keith Wood, so there is room for everyone."
Coach Gatland had said he would not call on Wilkinson unless the 37-man squad was hit by injuries.
"If we picked up an injury on tour then maybe there's a conversation to be had," said Gatland.
"Jonny's a good player, but we've had the conversation about him."