Bedford Blues 'will not follow London Welsh strategy'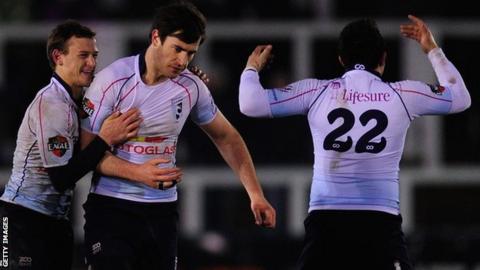 Championship play-off final first leg: Bedford v Newcastle
Venue:

Goldington Road

Date:

Thursday, 23 May

Kick-off:

19:45 BST

Coverage:

Commentary on BBC Three Counties Radio and BBC Newcastle
Bedford Blues chairman Geoff Irvine has ruled out following London Welsh's financial strategy to win a place in the Premiership.
Welsh, who moved to Oxford's Kassam Stadium after winning the Championship final, lost £4m over two seasons.
"I can think of far better ways of spending £4m, if I had £4m to spend," Irvine told BBC East Sport.
"And we're not going to move away from Goldington Road. It's our spiritual home and it's where we'll stay."
Bedford host Newcastle in the first leg of the Championship final on Thursday, but should they win on aggregate after the two games. they will not meet the Rugby Football Union's criteria for promoted clubs to play in the Premiership.
Welsh won last season's Championship play-off, but were only allowed into the Premiership after that they did not meet the league's criteria.
After a season of groundsharing with football club Oxford United, the Exiles were relegated and may return to Old Deer Park in west London next season, although head coach Lyn Jones wants them to stay at the Kassam.
Bedford's Goldington Road ground does not meet the criteria for numerous reasons, including capacity, the slope of the pitch and the standard of facilities.
An arrangement to share with MK Dons had been suggested," but Irvine has ruled that out.
"I think MK Dons have a fantastic stadium. The people who run the club are very forward looking. But it's not Bedford Blues. There's no way in the world we'd move," he said.
Blues may look at other possibilities should they overcome Newcastle.
"Before we even get to those decisions there are two games of rugby to win," said Irvine.
"There's a number of options available, when they are available we'll review it."
Irvine has said he will attempt to provoke an overhaul of the criteria for promoted clubs when the new heads of agreement between the RFU and Premier League Rugby are drawn up in 2015 for the start of the 2016-17 season.
"We're trying to put down some markers. I don't think anything is going to change significantly in the next two years with the heads of agreement.
"When the new heads of agreement are drawn up, the Championship will be at the table, which it wasn't before. I honestly believe these circumstances won't be allowed to continue," he added.
"Just imagine the scenario - we win it, we don't go up, Newcastle stay down and London Welsh stay up when they don't want to. How stupid would that be? Can that be good for the game in the long term? No, it can't."