Dave Thomas ready to make Cornwall farewell at Twickenham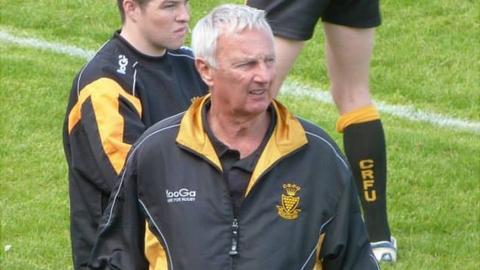 After being involved on and off with Cornwall's county rugby team for 38 years, head coach Dave 'Benji' Thomas will bow out at the top on Sunday.
The former schoolteacher will lead the black and gold for the fifth and final time at a Twickenham final when Cornwall face Lancashire.
"I decided before the season commenced that this was going top be my last season," Thomas told BBC Cornwall.
"I feel it's time to hang the coaching up for Cornwall."
Thomas first took charge of the Cornwall side in 1975 when they lost 9-6 to Gloucestershire at Redruth.
Over the next 38 years he has more often than not been the man at the helm of the side, leading them to the County Championship finals of 1989, 1991, 1992 and 2013, as well as the inaugural County Championship Shield final in 2008.
One person there that day in 1975 was Bill Hooper from Trelawney's Army, the Cornwall Rugby Supporters' Club.
"He's very much a father figure who's done it all and seen it all," Hooper told BBC South West Sport.
"He's an ex-schoolmaster so I think just by his persona he engenders respect and people listen to him.
"He's not one to get flustered or excitable, he's a quietly spoken guy who gets his message across.
"There's a tremendous amount of respect that he's got from generations of players that precede the current crop," Hooper added.
The county game perhaps does not have the attraction that it did when Thomas first got involved with the Cornwall side.
Gone are the days when England internationals like Bill Beaumont, in whose honour the County Championship trophy is named, play for their counties.
In these days of professionalism Cornwall's side is largely made up of players from Redruth and Launceston who play in the fourth tier of English rugby, National Two South.
But for an independent-minded place like Cornwall, the county rugby side is as close as they get to a 'national' team.
"The players realise it's not only their day, it's the supporters' day as well and they really want Cornwall to succeed for the crowd," Thomas said.
"I feel very proud that I'm associated with a group of people who are very single-minded, very determined and work really hard.
"They've given up another month of the season to play for Cornwall and it, just shows how they feel about the whole county game."
Thomas will continue to be involved with Cornish rugby after Sunday, as he is staying on with his role developing the next generation of young county players.
"He does a tremendous amount of work at young levels around the county," Hooper said.
"He's literally got his finger on the pulse and from an early age he can identify players that can play for Cornwall."
So how about the class of 2013? Can they win a second county title for for Thomas?
"They play with a tremendous pride, and tremendous passion and that has made a huge difference," the coach says.
"They've bonded together as a group of players from different clubs and that is essential if you're going to get any success.
"You just hope all the things you've talked about, all you things you've practised, are going to come good on the day.
"While you're watching it you age 50 years. It'll happen all again on Sunday, and I just hope for them, and the Cornish people, that we'll do them proud."