Cardiff Blues board gives go-ahead for artificial pitch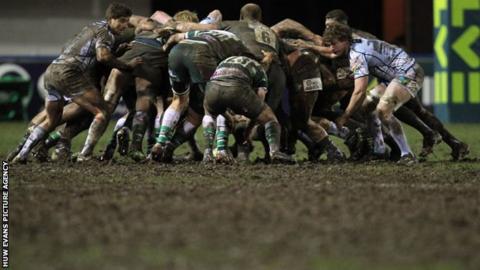 Cardiff Blues will play home matches on an artificial pitch next season after their board approved a plan to replace the grass at the Arms Park.
The poor state of the natural playing surface has been an issue since the Blues returned to the ground in 2012.
The development still requires the approval of the Welsh Rugby Union, but BBC Wales understands that is likely to be a formality.
Work on replacing the grass is set to start early in June.
Celtic Rugby, which administers the Pro12 League, and ERC, the body which runs the Heineken Cup, have both already given the plan their blessing.
Blues chief executive Richard Holland confirmed the region had agreed terms with a supplier and had a financial plan in place to cover the estimated £400,000 installation costs.
The Blues took part in the first professional rugby match to be played on Saracens' artificial pitch at Allianz Park in January this year, and the region's management were impressed with the surface.
It was a significant development given the criticism levelled at the Cardiff Arms Park pitch during the 2012-13 season.
The Blues had previously shared the Cardiff City Stadium with the Welsh capital's football team, but returned to rugby's traditional home in the city after poor attendances and pressure from fans.
However, at the start of May, Holland admitted that the ground at the Arms Park was not suitable for modern rugby.
"We have Lions backs and world-class youngsters, but they can't run in mud," he said.
"We are part of the entertainment industry and we can't expect fans to pay £15 or £20 or buy a season ticket."
The friendly match against Sale Sharks on Friday, 23 August, is likely to be the first game played on the new surface.
Meanwhile, the Blues have confirmed Cardiff born businessman Martyn Ryan has joined the region's Board.
Ryan joined London Welsh in 1984 and has been involved as a player and administrator there for nearly thirty years. He is currently as a Director of the Club.
He is also Chairman of the Welsh Exiles and sits on the Game Policy and Audit Committees of the Welsh Rugby Union.
Ryan is also a benefactor of Glamorgan CCC, a trustee of the rugby related charity, Touraid, and Chair of the Tom Maynard Trust.