Warren Gatland has been offered 'silly money' says David Pickering
Last updated on .From the section Rugby Union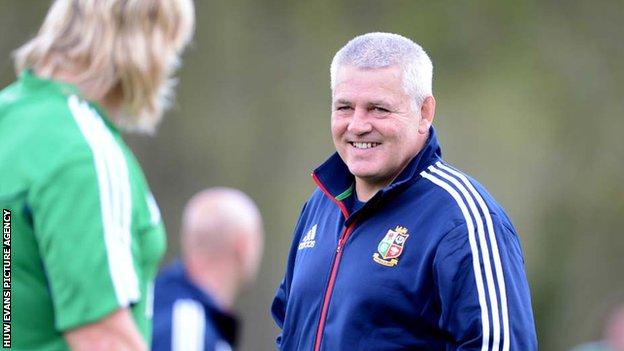 Welsh Rugby Union chairman David Pickering has admitted enquiries have been made by rich club owners for the services of Wales coach Warren Gatland.
Currently in charge of the British and Irish Lions, Gatland is due to return to Wales after the tour to Australia.
"I know that Warren's been approached by club owners offering to pay silly money to get him," said Pickering.
But former Wales captain Pickering expects Gatland to honour his contract which runs until the 2015 World Cup.
Gatland was appointed coach of Wales in 2007 and has guided them to Six Nations championship Grand Slams in 2008 and 2012, and the semi-final of the World Cup in 2011.
He had already started his sabbatical as Lions coach when Wales successfully defended their Six Nations crown in 2013, with a crushing 30-3 win over England in Cardiff under interim coach Rob Howley.
Pickering told BBC Radio Wales' The Back Page programme that Gatland had delivered the "most successful period arguably in Welsh rugby history" and that the national side's displays under the New Zealander had made a significant impact on the financial performance of the WRU.
The former Neath and Wales flank forward also believes Gatland will see out his contract, and hopes he might even extend it.
"He's a loyal man," said Pickering.
"He's signed up to the World Cup and... he wants to coach Wales in the 2015 World Cup. He'll have been with us eight years then and that's a long time off.
"Whatever happens in three years' time will depend on where Warren wants to go and what the World Cup brings.
"If he's delivering success and he's happy - and I'm sure that's a strong probability - Warren might want to stay and if he did want to stay there'd be nobody more delighted than me."
Pickering also conceded that the success Gatland has achieved with Wales on top of his previous exploits as coach of London Wasps mean he is one of the hottest properties in the game.
"If you, for example, were looking outside now at getting a coach for your club or your country this guy would have to be top of the list," said Pickering.
"His record shows wherever he's gone he's brought success."
Pickering was part of a WRU recruitment team which made a world-side search for a coach in 2007.
South African World Cup-winning coach Jake White and current Australia coach Robbie Deans were among those considered Pickering confirmed, before Gatland was appointed.
"We really pushed the boat out and it was the right thing to do," he said.
"The national coach has got a massive impact on the national team and hence the business of the Union.
"It's the one appointment that you do push the boat out for and it's been repaid in heaps.
"The most obvious correlation between Warren's performance and the team performance and the effect it's had on the business is if you look back the Welsh Rugby Union turnover is up 40% in the past five years.
"Last year we turned over £63.2m, so that's an incredible growth in the company and some considerable part of that must be to do with national team success."