Mark Anscombe says Ulster 'now equal' with Leinster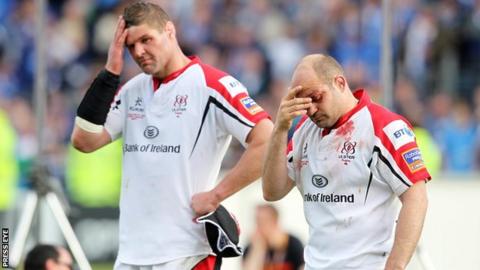 Mark Anscombe believes Saturday's Pro12 final shows his Ulster team are now Leinster's "equal" despite the northerners' narrow defeat at the RDS.
Leinster completed a European Challenge Cup and Pro12 double as they edged out their Irish provincial rivals 24-18.
But Anscombe, despite lamenting his team's indiscipline, did take positives from the defeat in Dublin.
"I think we showed we are their equal now. I got a lot of heart from what I have seen," said the New Zealander.
"(The season) has been long, endurable, cold, wet but they're a good bunch of guys.
"We finished last year when I wasn't here. In the Heineken Cup final we got cleaned out.
"We can take heart. We've got to make sure we bounce back from this. We've come a long way this year.
"(Even) Not doing as best as we could (on Saturday), we could have beaten and should have beaten the best team in the competition.
"We had our chances but the key is discipline. You can't give a good team like that chances."
Anscombe highlighted his team's slow start as a third-minute Shane Jennings try helped Joe Schmidt's side take an early 10-0 lead.
"We were on the back foot straight away. When you start a game, you want to get into the ascendancy."
Ulster hooker Rory Best had no complaint with the performance of referee John Lacey but Anscombe did hint at unhappiness with the Munster man's interpretation of the key breakdown exchanges.
"I thought some of the penalties were pretty tough," added Anscombe.
"I can't argue for what we were getting done for. I thought that was legit. But I thought there was a little going on the other way that wasn't happening."
But Anscombe acknowledged that Ulster had only themselves to blame for wasting a glorious try-scoring chance in the first half when Robbie Diack was held up, over the Leinster line, after he chose to cut inside instead of diving into the corner.
Best struggled to contain his disappointment after a second defeat in a major final in 12 months.
"We wanted silverware. Anything else was going to be a bit of a failure," said a battered and bruised Best.
"You can never fault the effort but at times we just lacked a little bit of accuracy.
"Our discipline was very poor. And when you are playing the top sides in finals, that is going to be the difference.
"We feel we gifted them nine, maybe 12 points. We lost by six."
Best would not accept the suggestion that the defeat could be spun into another "learning experience" for the northerners.
"When it comes to big games, we can't keep saying that.
"It's not a case of not having fronted up but of maybe being a bit more streetwise.
"We got played today by a team that were a lot more streetwise than us. I don't think they infringed any less than us. They were just smarter about it."
The hooker refused to use referee Lacey's performance as an excuse for Ulster's defeat.
"Personally I felt you couldn't fault the referee. Ultimately we kind of cost it ourselves by being outplayed at the breakdown."