Lions 2013: Brian O'Driscoll wants new Lions memories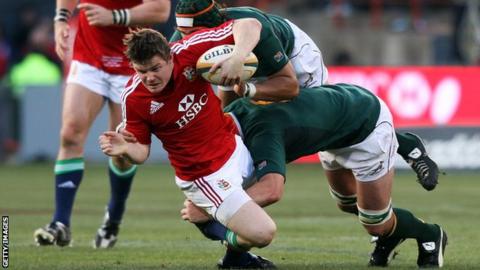 Ireland centre Brian O'Driscoll has told the British and Irish Lions to create new memories by delivering a first Test series victory since 1997.
Former Lions captain O'Driscoll insists the tourists need to win when they face Australia in June and July.
"It's really important to win this series," the 34-year-old said.
"We need to create new, fresh memories that people can talk about more recently than two years after the advent of professionalism."
The Lions' last win came in 1997, when Welshman Neil Jenkins - now assistant coach - top scored in a 2-1 series win in South Africa.
"It's time to kick on to the next level," O'Driscoll said.
"From the franchise point of view we need to win on occasion and that occasion has reoccurred after 16 years. It's a long time to still be talking about 1997."
The Lions lost tight battles against South Africa four years ago and Australia in 2001, while in between they suffered a whitewash in New Zealand in 2005.
"We probably gained back a little bit of the belief in what the Lions was about in 2009 by creating such a great series, albeit we lost 2-1," said O'Driscoll.
"They were keenly contested games and could have gone either way, which was important after coming off the back of a 3-0 loss to the All Blacks in 2005."
O'Driscoll, of Leinster, will be embarking on his fourth Lions tour and insists the visitors can win the series, with Test matches in Brisbane, Melbourne and Sydney ahead.
"It was all new to me in 2001. I was delighted being on the tour and getting into the Test team. I look back and realise what a massive missed opportunity that was," he said.
"We had them in the second Test and we didn't finish them off. You subsequently look back having been on two other tours and realise how difficult it is to win a series.
"The great thing about another opportunity is that there are no boundaries to what you can achieve.
"I'm the eternal optimist and go down with the thought that we can absolutely win a series.
"We will work hard towards doing that and hopefully put ourselves in a position to do that."