Vern Cotter: Scotland's strategy on coach risky, says Peter Wright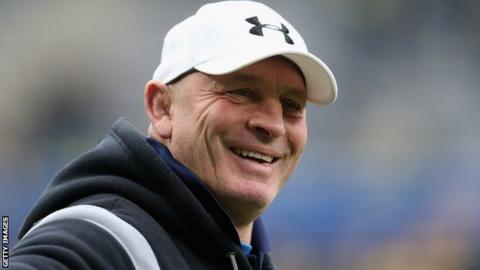 Former Scotland forward Peter Wright says he believes it is bad news that the national team will have an
Vern Cotter is to be the new permanent coach - but not until the end of his contract with Clermont in June 2014.
Scott Johnson will continue as interim coach until then.
"It is going to be 18 months of an interim coach and I don't think that's right for an international team," Wright told BBC Scotland.
"I would have preferred a candidate that would have come in straight away.
"But the SRU have said they've got the man they wanted and I think he's a good, good coach and I think he's a guy who could take Scottish rugby on.
"It is just that year between now and then. That'll be the interesting part."
Asked if the wait was because the Scottish Rugby Union was unable to match Clermont's demand for compensation, chief executive Mark Dodson said the governing body always knew the New Zealander was under contract until next summer.
He told BBC Scotland that the SRU was willing to wait for such a top-class coach.
But Wright was concerned about the effect such a unique arrangement would have on preparations for the 2015 Rugby World Cup.
"I think Johnson will do a good job for the year before Cotter comes in, but he's going to come in with a year to go before the World Cup," said the BBC Scotland rugby pundit.
"Is that enough time to prepare Scotland for the World Cup?
"It's something I don't think has ever happened before in international sport and it'll be really interesting to see how it pans out over the season."
The SRU has not ruled out Cotter becoming coach earlier and says that he will assist Johnson, who is to move to a director of rugby role, until he is free of his contract with the side who reached this season's Heineken Cup final.
"The guy himself, Vern Cotter, is a very good coach and I think he'll do a good job, but I suppose that's tinged by the fact that we're not going to see him until next June," said Wright.
"We've got a whole year where he's not going to be involved that much.
"The SRU have come out and said he'll have some sort of involvement. But, if he's full-time at Clermont for that year and they're quite a successful club, I can't see Clermont releasing him for the Six Nations or the Autumn Internationals.
"It's a really strange one. I've never ever seen this before in any team that you announce a coach a year before he actually comes to the job.
"Some journalists are saying that Clermont might get a new coach in and release him, but I can't see that happening."
Wright said that Cotter's involvement would be hampered by Clermont's location in central France.
"It's not just a matter of jumping on a plane from Clermont to get to Edinburgh - Clermont is a difficult place to get to," he said.
"If he maybe lived in Paris or London, he could fly up in the morning and fly back in the evening."