Championship play-off: Bedford Blues have 'nothing to lose'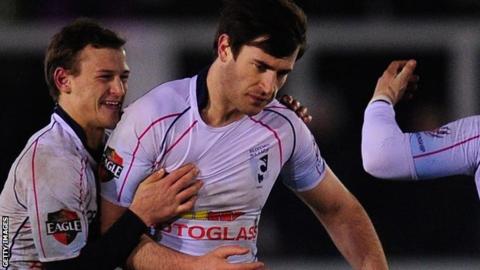 Bedford Blues centre Mark Atkinson has said his side will play free of pressure as they look to overturn a nine-point deficit in the Championship play-off final against Newcastle.
The Blues, 18-9 losers at Goldington Road, travel to the north east for Wednesday's second leg.
"More than ever there's no pressure," Atkinson told BBC Sport East.
"People say we came into the first leg with no pressure. With nine points down you've got nothing to lose at all."
Tireless rearguard action from the Blues prevented Newcastle from registering a try in the first leg, but Jimmy Gopperth converted five penalties to make Falcons firm favourites for promotion to the Premiership.
Bedford are unable to go up anyway, as their ground but 23-year-old Atkinson believes his side can gain their first win over Newcastle in five attempts this season.
"Everyone expects you to lose that whole thing now. We go up there and see what happens," said the former Wasps back.
"We would never have taken nine points before the game. But everything boils down to them. The pressure is on them.
"They've got the nine-point lead, everyone thinks we've lost. We go up there and see what happens. I don't think we've lost it yet."