Vern Cotter appointment buoys Scotland squad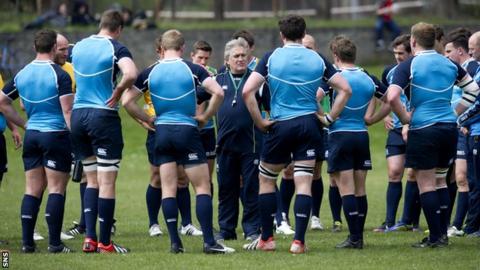 Al Kellock thinks the appointment of Vern Cotter as head coach proves Scotland are on the right track.
New Zealander Cotter is due to take over in June 2014, when his contract with Clermont Auvergne expires.
And experienced lock Kellock told BBC Scotland: "I think we're in a good place, coming off the back of a relatively successful Six Nations.
"It's a positive thing to have a coach of that quality coming in. He has a great record wherever he's been."
Cotter, 51, boasts an impressive CV, which includes winning the French title in 2010.
But Scotland have 11 international games to play before he assumes the role - 12 months before the World Cup.
Until then, Cotter will be on hand to assist interim head coach Scott Johnson and the current coaching team with advice during the summer tour to South Africa, the autumn Tests in November and the next Six Nations Championship.
Kellock believes Scotland are progressing under Johnson and that the Australian can build on a third-place finish in this year's Six Nations, with help from Cotter.
"The management and coaching staff in place at the moment are great and he will have an input in the way he wants us to play," added the Glasgow skipper.
"He'll have his own ideas and they will drip in over the next year.
"At the moment we have to concentrate on what Scott has put in place."
Edinburgh centre Matt Scott also welcomed the new appointment from Scotland's training camp in Grantown-on-Spey.
"He's a coach with experience of winning trophies and from what I've heard he's taking a group of individual superstars at Clermont and made them into a strong unit," said the 22-year-old.
"We're a young squad, with a Six Nations under our belts now and it will be great to have an experienced coach to take us through to the World Cup.
"The coaching team are doing a really good job at the moment and if Vern can have an input over the next year he will have time to ascertain our strengths and weaknesses and get to know who we all are.
"He'll be ready to go whenever he takes over the reigns."
And stand-off Tom Heathcote is looking forward to Scotland adopting Cotter's style, which is puts the emphasis firmly on attack.
"If you look at the teams he's coached, like Clermont, they play really good, attacking rugby, with an exciting game plan and fast offloads," explained the Bath player.
"If he brings some of those aspects to our game, I think it will be really positive."
Cotter is to address the media at Murrayfield on Wednesday before Scotland turn their attention to next month's four-team international tournament in South Africa, where they will face the host nation as well as Samoa and Italy.