Cornish Pirates prop Alan Paver prepares for testimonial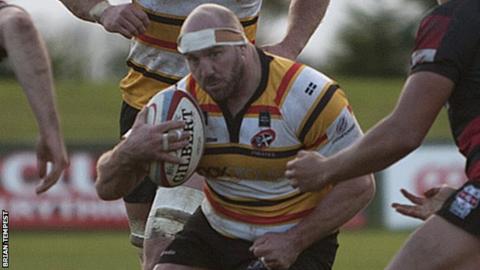 To play over 300 games of high-level rugby is a feat very few players accomplish, even fewer with one side.
But on Sunday, Cornish Pirates' Alan Paver will celebrate that feat with his testimonial match at the Mennaye.
The Yorkshire-born prop has called Cornwall his home since 2002, when he moved to the club from neighbours Plymouth Albion, and has been a firm favourite of fans ever since.
"It's an absolutely fabulous occasion for me," he told BBC Radio Cornwall.
The 35-year-old began at Lancashire side Vale of Lune before being enticed to Plymouth Albion by Graham Dawe in 1998.
After four seasons in Devon, he crossed to Tamar and joined the Cornish Pirates.
Paver but has not played since after coming off after just four minutes with injury.
It was a tale that was very similar to his only game in the top flight - during a front-row injury crisis in September 2011, but he lasted just 26 minutes after coming on as a replacement against Saracens before being hurt.
But injuries aside, Paver has been part of a Cornish Pirates side that has risen from the old National Two to contenders in the Championship and he has been there every step of the way.
In his time at the Pirates, the club has twice made the Championship play-off final - losing to Worcester in 2011 and - as well as winning the EDF National Trophy in 2007 at Twickenham and the inaugural British and Irish Cup in 2010.
"The EDF final and the British and Irish Cup were the two real standout memories in terms of the whole of the community and Cornwall getting behind us, that was superb," he told BBC Radio Cornwall.
And that Cornish community is one that has taken the stocky Yorkshireman to their hearts.
He was part of the coaching team that and that side from Twickenham is taking on an Alan Paver XV in his tribute match at the Mennaye this weekend.
"It takes a long time to get in a position to have a testimonial and in many ways for me it's a great opportunity to celebrate my time at the Cornish Pirates and also celebrate the fact that I've really integrated into Cornish life and the community in Penzance," Paver said.
"It was fate that I came here, but the way that they've accepted me into the community so quickly, I feel as if I want to give back and I try to on a daily basis in many ways.
"I help as many people as I can and they help me. That's the wonderful thing about Cornwall, once you're here and you really immerse yourself into Cornwall the benefits back are tenfold."
So just how good a player is Paver?
He's seen front-row colleagues like Darren Dawidiuk, and leave for the Premiership in the past few years as the Pirates lack of a suitable stadium has halted any hopes they have of making the top flight for themselves.
"Alan Paver epitomises the club professional," says BBC Radio Cornwall's rugby commentator Dick Straughn.
"He's the stalwart, the man who stays at one club for the bulk of his career and is completely and utterly loyal to them on and off the pitch.
"He's widely respected not just in the Championship but in the leagues above and beyond and is consistently the best prop outside Premiership rugby.
"He turns it on season in and season out and is probably one of the best signings the Pirates have ever made."
Paver has no plans to quit just yet, having signed a new deal to keep him at the Mennaye until the end of next season.
But even when his playing days do end, you feel he will still be in Cornwall for many more years to come.