Scotland: Wait for Vern Cotter not perfect, says Scott Johnson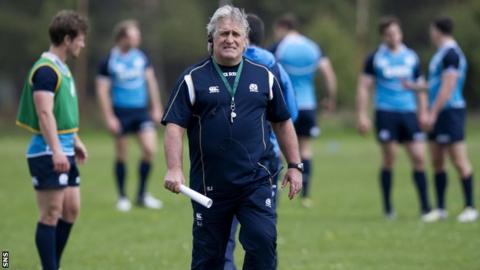 Scott Johnson admits having to wait to hand over the Scotland reins to Vern Cotter is "not perfect" but hopes the team can compete well in the interim.
"The reality is that this is what has been placed in front of us," said Johnson.
"If that means I have to take over in the meantime again, then so be it."
Johnson, who took charge of Scotland's Six Nations campaign, will assume the role of director of rugby once New Zealander Cotter has taken up his post as head coach.
"Vern and I will be in constant contact," explained Johnson. "There will be a lot of planning and programming going on in the background so, by the time Vern is on full-time, a lot of the work will have been done.
"Do I know Vern like a brother? No. But we have mutual friends, have coached against each other a bit, worked with similar people.
"The situation is not perfect - we would rather have something else. We understand what we need to do and where we want to get to."
Scotland tour South Africa this summer before an autumn Test series against Japan, the Springboks and Australia.
"The team needs to be competitive all the time," added Johnson. "Irrespective of who is put in front of them or where it is played, they need to aim to be competitive.
"If they have that mantra, then they are in the competition. If they are in the competition regularly, they will win more than they lose because we will have an ethos, an ethic, a level of skill that will allow us to compete.
"Where we ebb and flow in competitions is caused by the fact we are not always in the competition. We need to make sure we are in it and that will determine how far we can go."
Meanwhile, Scotland full-back Stuart Hogg believes he has "nothing to lose" ahead of the British and Irish Lions' tour opener against the Barbarians.
with Leigh Halfpenny and Rob Kearney also in the squad for the tour to Australia.
"I've got myself here on good performances, and I am hoping to continue that form," said Hogg. "It's an exciting couple of months ahead.
"Everybody is expecting Leigh to be the starting number 15 [against Australia], and I will push him all the way to get that starting spot.
"But at the end of the day it's good for me to have guys like that you can learn off. Rob Kearney as well, learning how they play 15, adapting to how they play and hopefully learning a lot from them."