Mike Blair column: Scots can build momentum against Barbarians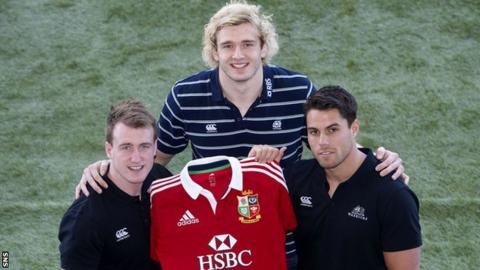 I correctly predicted 32 from the 37 named Lions tourists back at the end of April.
My main area of failure was the front row where surprisingly neither of my Scottish picks, Euan Murray nor Ryan Grant, were called upon.
There are many things that make a successful tour or successful tourist and in Euan's case it wasn't just his scrummaging that made him worthy of selection.
In 2009 he was one of the characters of the tour, along with Andy Powell, and they brought the squad closer together and provided a lot of the off-field entertainment and this role shouldn't be underestimated.
From a Scottish point of view, what do we think of the make up of the squad? Not enough Scots - or is three a fair reflection on our standing in the game?
For me, Richie Gray was a definite if he was fit.
Stuart Hogg has the confidence and ability to make a real step up in performance and I can assure you he won't be shy in the social environment with the other players!
He's so excitable and will learn so much from this tour like youngsters Keith Earls and Leigh Halfpenny have done in the last four years.
Sean Maitland might be seen as a bit of a bolter - but he has proved in his short time in Scotland, and previously for the Canterbury Crusaders, that he has the temperament and skills to make a real impression. I get the feeling with Sean that the bigger the games are, the more he will shine.
I thought Scotland could have had a bigger representation but the unfortunate thing is that where Scotland have players of strength, the other nations also do in those positions.
You would assume, based purely on performances for Scotland, that Ross Ford, Grant, Murray, Jim Hamilton, Kelly Brown, Johnnie Beattie and Greig Laidlaw would all have had a shout but, if you look at those chosen in front of them, it is hard to disagree too much with the overall selection.
With the Wales head coach Warren Gatland leading the Lions and a strong Welsh representation in the squad I think the game plan will be based on power and intensity. Think Wales/England this year or Wales/Ireland in World Cup '11.
There will be a bit of guile added with Jonny Sexton and, for me, Brian O'Driscoll has something very different to the battering rams of Jamie Roberts, Manu Tuilagi and Jonathan Davies and would be hard to leave out.
Gray also has a subtlety of hand in the offload that makes him a game breaker and a favourite to start in the second row.
is this weekend and will be a really interesting match-up. disappointed versus England last week and, after imposing a booze ban on themselves, will be desperate to make amends.
In some ways this game will be easier for them as both teams will have had the same limited preparation time and the Barbarians might even be at an advantage having already played together, although Gatland's selection cleverly matches familiarity between players in their units, like the centres, back three and back row.
It's a great opportunity for players to put their marker down. First impressions last and a good individual performance builds a player's confidence and momentum for the remainder of the tour.