Lions 2013: Welsh players not in pole position - Jamie Roberts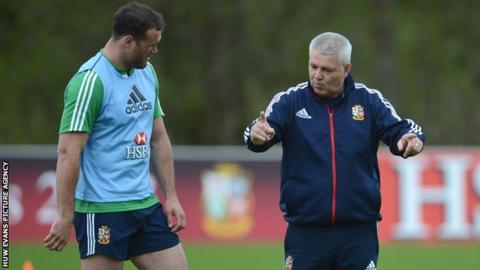 Jamie Roberts says people should not read too much into the large Welsh contingent in the British and Irish Lions team for the match against the Barbarians on Saturday, 1 June.
Centre Roberts is one of nine Welsh players named by coach Warren Gatland for the tour opener in Hong Kong.
"A lot of the players played a final before we flew out here and aren't ready to go quite yet," he said.
"People can make what they want of the make-up, but it's not a Welsh team."
Eleven Lions - none of them Welsh - were involved in the Premiership and Pro12 finals which were played on 25 May, and none are included in the team to play the Barbarians.
Roberts believes that helps to explain the heavy Welsh presence for the opening game - though Wales does make up the biggest national contingent in the Lions squad with 15 players.
Ireland contribute 10 players, England nine and Scotland three to the 37-man squad that will move on from the warm-up in Hong Kong to Australia.
"Obviously it's the head coach of Wales coaching the side and quite a few Welsh players involved, but we're not playing a brand of rugby which is similar to Wales," added Roberts.
In fact the Cardiff Blues centre, who toured South Africa with the Lions in 2009, says the true strength of the British and Irish team is the mix of nationalities and playing styles.
"Look at the young players in the back three," he said.
"Stuart Hogg and Sean Maitland are two guys who've had a wonderful season, and then you see Owen Farrell at 10 - from a backline perspective [that] adds a lot of enthusiasm and confidence and quality as well.
"Playing on a Lions tour, one of the exciting things is being coached by the coaches and training with different players and that can only add to your skill set.
"I'm learning different things at the moment, different things from Owen and from [assistant coach] Andy Farrell - from these wings and these full-backs and centres I'll hopefully play with during the tour as well."
In addition to helping the players bed in as a squad, Roberts believes the Lions' performance against the Barbarians can help set the tone for the tour.
"As a side you have to start putting down foundations for the way we want to beat the Wallabies; how we attack, certain patterns of attack, how we defend, our kicking game.
"Those foundations we need to start setting in stone and that starts [against the Barbarians].
"It's not a game for us to go and play sevens. We'll throw the ball around and have a crack, but it's a game for us to put our foundations in place and build on over the tour going on to the Test matches."