Lions 2013: Jeremy Guscott Lions special Q&A
Last updated on .From the section Rugby Union508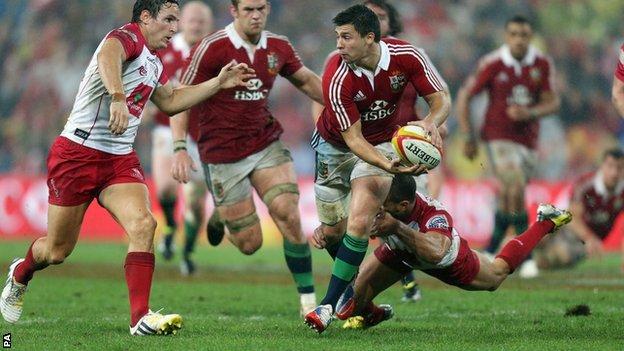 Among the topics Jerry discusses this week are:
- Which Lions player will have the biggest impact in the Tests?
- Selection dilemmas facing coach Warren Gatland
- The surprise package of the tour so far
- Australia's approach to facing the tourists
Jerry answers questions posted on the website at the start of every week - entries are now closed for this Q&A. This week's answers appear below.
Mike: Based on the three games so far, who do you think from the home nations would consider themselves unlucky not to be in the Lions squad? Also, if you had your way, who would get called up (if we said that was allowed)?
I'm sure there are quite a few players who might consider themselves unlucky not to have made the trip but some will because there have been a few injury replacements called out already. I've been impressed with all the squad players - they've gone out and given it their best. I really do think Warren Gatland got his selection right.
I didn't agree with all of Gatland's original picks but they've shown they're up for it. We will never know how much better or worse the likes of Chris Robshaw, Tom Wood, James Hook, Jim Hamilton, Alastair Kellock, Peter O'Mahony and others might have been. I'm just pleased the selected squad have got on with it and played as well as they can so far.
Tim: Assuming Manu Tuilagi recovers, the Lions have four centres who I would find it nearly impossible to choose between. Who do you think should play at this stage and how do you think Warren Gatland will decide?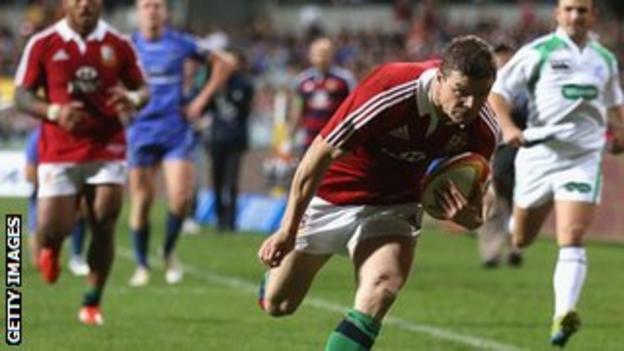 I would have no problem picking Jamie Roberts or Manu Tuilagi at 12 and Brian O'Driscoll or Jonathan Davies at 13. I would definitely go for O'Driscoll at 13. He looks in imperious form and is just a shade above the rest. He's absolutely purring and that leadership will be crucial, especially if Sam Warburton doesn't make it. Jamie Roberts has done enough to retain the Lions 12 jersey and he'll shine even more against the next opposition. Roberts and O'Driscoll for me.
Brucyboy: What did you make of Ben Youngs's performance against Queensland? Do you feel that his superior passing and speed of passing out of the ruck should see him start over Mike Phillips? I think Warren Gatland will start with Phillips but Youngs is the better scrum-half.
It's all subjective - you think Ben Youngs is better and others will agree, as they will about Mike Phillips being the better player. Phillips did play a hard ball game against the very weak Barbarians but you can only play what's in front of you. Phillips does add to what I feel will be a relentless battering from the Lions of the Australian defences and that's why I believe Gatland will pick him.
I would start with Phillips but if within 30 minutes he has been caught at the back of breakdowns, or he's trying to go alone and getting turned over, I'd have Youngs on sharp as replacement.
Ospreys fan: Due to the lack of height in the back row, do you think Tom Croft will get the nod over Dan Lydiate?
Dan Lydiate does seem to be a little bit slower and heavier than we've seen him in the past before the ankle break, although he's still getting through a ton of work. Tom Croft didn't appear to be as prominent in attack against Western Force as Jamie Heaslip and Sean O'Brien were. They didn't use him at the back in the line-out. He got a load of tackling done, and enjoyed a 92% success rate, but I doubt he'll be overly happy that O'Brien gets the nod at six for Tuesday night's game. I think that position is up for grabs, as is the second row.
Garethjw: In terms of the Test team, in my opinion Jonny Sexton has to start at 10 due to his game management. However, I can see Owen Farrell in the centre - he certainly seems to be physical enough to cope and I think that in time this may be his best position. What are your thoughts? Also given Alex Cuthbert's form against the Reds, will he make the Test team?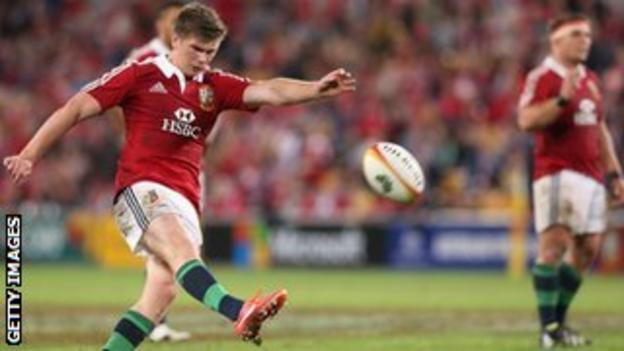 Owen Farrell has a long, long way to go to have the same impact that Jamie Roberts, Manu Tuilagi, Jonathan Davies and Brian O'Driscoll have in defence and particularly in attack. Jonathan Sexton will definitely start at 10 because he is the more accomplished player. Farrell is still learning how to boss a game when the strategy isn't working, or the move goes wrong. Alex Cuthbert has had a couple of howlers in defence, which doesn't make him a certainty for the Test 14 shirt.
Asher Saracens: Who do you think should be the Test starter at one? Mako Vunipola is a strong ball-carrier and getting better as a scrummager, Alex Corbisiero is a solid scrummager but has been injured for a long time, while Ryan Grant is a generally solid player.
Vunipola has won that jersey. He's been very impressive, especially carrying the ball. In 44 minutes of action against Western Force Vunipola made 11 tackles without missing one. He made seven carries, beat four defenders and scored a try. I guess originally Mako might have been thought of as an impact replacement but I believe he's played himself into the Test team. Ryan Grant and Alex Corbisiero will probably only have a game each to grab the jersey, and that will be difficult.
Zacattack99: Do you think Australia will be very physical after what the Reds' game produced?
The Wallabies will have their game plan nailed down. They've been in camp for a few weeks plotting away. By playing quick, smart, accurate rugby the Reds bent the Lions defence more than a few times, breaching the defensive line, with only brilliant scrambling defence denying them more tries. I don't believe the Wallabies can match the Lions' power.
Mr_Wood: Who has surprised you so far, who do you wish they had taken and which Lion do you think will have the biggest bearing on the outcome of the series?
Mako Vunipola has surprised me the most, although I have a little bit of a reservation because the warm-up games aren't Test-match intensity. I believe Leigh Halfpenny will have the biggest individual impact because he's got to kick the penalties and so much depends on him being successful, as Neil Jenkins was in 1997.
Dave B: The final whistle in the Lions' game against Queensland Reds came approximately 125 minutes after the match started. Allowing 80 minutes of actual game time and 10 minutes for half-time, it means there were 35 minutes of garbage in between. Do you think the IRB should tighten up on the time taken for line-outs, scrums and kicks at goal to try to hurry up play?
Apart from the injuries, the match didn't seem to go missing with time-wasting. The first half was played at a very fast pace that went quickly and then the weather kicked in, making it difficult to play a running, handling style of game. I didn't notice the clock running on. I'm sure if the IRB or coaches and player thought most games were running too long, they would make some noise and fix it.