Tom Prydie craving second Wales chance on Japan tour
Last updated on .From the section Welsh Rugby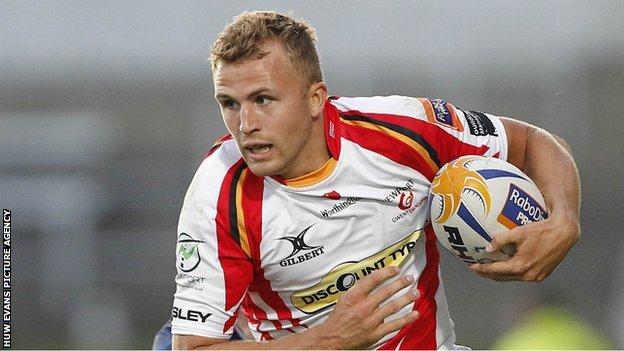 Tom Prydie is eager to end his time in the international wilderness and restart his Wales career in Japan.
But Prydie has not played for Wales since June 2010 and was an unused replacement in the 22-18 win in Osaka.
"I've got one foot back in the door now and I'm trying to train as hard as I can and try and stay here," he said.
"I really want to get on the field. I was gutted that I didn't get on last week but it was good for the team to get that win in tough conditions.
"I'm biding my time; obviously it's not in my hands and all I can do is train and the rest is down to the coaches... hopefully I'll get on this week [in the second Test in Tokyo]."
Prydie also became Wales' youngest try-scorer when he touched down against South Africa in June 2010 and later that month played twice against New Zealand.
But the 6ft 4in Porthcawl-born player then fell out of favour with Wales, while he also struggled to hold down a regular first-team place with the Ospreys.
Prydie from the Ospreys, having spent much of the previous season on loan at London Wasps.
He has starred in the Sevens and at Under-20 level with Wales, kicking six points in their historic win over New Zealand at the 2012 Junior World Championships and touched down twice in a 29-point haul in Wales' comprehensive victory over Samoa in the group stages.
Prydie was recalled to the Wales senior fold for their two-Test tour of Japan, with 15 senior players away with the British and Irish Lions in Australia.
But with two other youngsters - Harry Robinson, 20, and Dafydd Howells, 18 - getting the nod on the wings in the first Test in Osaka, Prydie still has to claim his long-awaited fifth cap.
"A lot of the first team are not here, they're with the Lions and a few are injured, but all the same it's brilliant being here and great being back in the environment," Prydie said.
"It seems a while ago now [since his Wales debut], I think I was 17 or 18 then, but I've definitely changed since then.
"I've had a lot more game time. I've had my first full season with the Dragons playing in the majority of the games, so I've definitely learnt a lot more since then.
"I've grown up a bit since then; I hadn't had too much rugby back then and I was going into it blind a bit - I didn't know what to expect.
"Obviously I loved my time then, it was brilliant, I learnt a lot from that and I think I'm a lot more prepared now and hopefully I can make an impact."
The goal-kicking wing or full-back racked up 230 points in his first season for the Dragons, including six tries in his 26 games, and Prydie is delighted with how the move to Rodney Parade his reinvigorated his career.
"The only way you're going to learn is by playing rugby and I've had that opportunity with the Dragons this year," Prydie said.
"For me the main aim of that move was to play rugby and I knew I wasn't going to get anywhere just watching."