Lions 2013: Brian O'Driscoll calls for 'game of our lives'
By Bryn Palmer
BBC Sport in Noosa, Queensland
Last updated on .From the section Rugby Union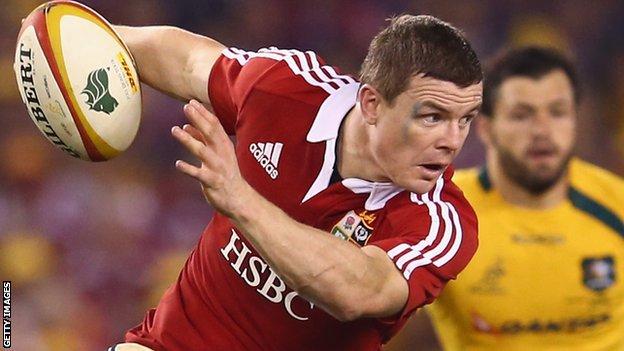 Brian O'Driscoll says the British and Irish Lions must cast aside their Melbourne misery and focus on the "80 minutes of their lives" in Saturday's final-Test decider against Australia.
The squad have been digesting their agonising second-Test defeat at a Queensland coastal resort before thoughts turn to the finale in Sydney.
"You have to have a bit of a mourning period after a loss, but the spirits have picked up already," said O'Driscoll.
"You just have to cop on after a while and stop feeling sorry for yourself.
"It is important to be able to feel the disappointment. If you try to banish it immediately it will come back to you, and it still does at times throughout the day. You think about how the scenario could have been different - having the series in the bag rather than having to fight for it over again this weekend.
"But you have to shelve that and focus on the target. It is just one more 80 minutes this season, that is all that is asked of the squad. And that is the 80 minutes of our lives."
It could be a particularly momentous occasion for O'Driscoll, who last Saturday broke Willie John McBride's record (4,375 days) for the longest Lions Test career.
If he starts this Saturday, at the conclusion of his fourth and final tour, the celebrated centre will also equal George Gregan's world record of 133 Test starts from his 139-cap Wallabies career.
If he is in the starting XV at Sydney's former Olympic Stadium, O'Driscoll will have started all but one of his 134 Tests, including 125 for Ireland.
The prospect of achieving a first series win at his fourth attempt, and the Lions' first since 1997, will crank up the sense of anticipation surrounding his last outing in the famous red jersey.
But the Dubliner knows a cool head amid the cauldron of emotion will be vital.
"There has to be a certain amount of emotion in all games and that has to come into play when the stakes are as high as this," he said. "But you can't let the emotion take over. Accuracy is vitally important, and both teams lacked it at times last Saturday.
"There is always a mental toll with games of this magnitude. Thankfully you get seven days to get over one and start building towards the next one.
"You try to forget about the negative parts from last week and think positively about what you are going to incorporate into this week's game plan.
"(Lions fly-half) Jonny Sexton came up with a good analogy when we were sitting on the plane. He said 'Rarely after a cup final do you get the chance to re-live a cup final and put the things you did wrong right."