Lions 2013: Adam Jones column on O'Driscoll, surfing and koalas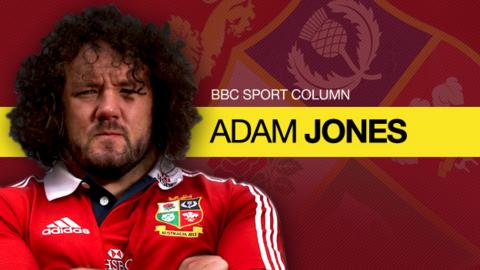 AUSTRALIA V BRITISH AND IRISH LIONS, THIRD TEST
Venue:

ANZ Stadium, Sydney

Date:

Saturday, 6 July

Kick-off:

11:00 BST (20:00 local)

Coverage:

Live text commentary on BBC Sport website, updates on BBC Radio 5 live
In the latest of a regular series of columns for BBC Sport, British and Irish Lions prop Adam Jones provides a look behind the scenes of the Lions tour of Australia on the eve of the final Test.
Since I have been playing professional rugby, the one thing I've always associated with the Lions is Brian O'Driscoll.
So for him not to be playing on Saturday is a weird, odd feeling. It is strange not having him there.
I guess he would have been a lot of people's favourite for the captaincy when Sam Warburton got injured, but the coaches have gone for Alun Wyn Jones and I am sure it is a situation he will relish.
He is one of my best mates and I am very chuffed for him and his family. We are all pretty close and it is a massive deal.
The main thing about Alun is that everyone can see he is a 100%-er, on and off the field. He goes pretty flat out at everything he does. As captains go, he is pretty ideal.
When he needs to speak, he speaks very well. He is vocal and makes a lot of sense.
Sometimes you get people who shout and scream for the sake of it, but Alun is intelligent, articulate, knows what he is talking about and knows the game-plan inside out.
With Jamie Roberts coming back in at centre, he and Jonathan Davies have got a tried and tested partnership so you are not going to lose too much there.
Jamie is used to running the defence anyway and I think everyone will be fine. While it will be strange not having Paulie [O'Connell] or Brian there, there is still a lot of experience in the team. It is up to other people like myself to step up if there are things to be said.
There are others like Jonny Sexton, who is very vocal and runs the game. Tommy Bowe is also very vocal - sometimes too vocal! Geoff Parling calls the line-out. Richard Hibbard has played a lot too. Toby Faletau and Dan Lydiate don't tend to say too much, but "Lyds" stepped up when he was captain against the Melbourne Rebels and apparently he was excellent.
If you look at our pack there are a lot of ball-carriers there in Seanie [O'Brien], Toby, Alun Wyn, "Corbs" [Alex Corbisiero] and "Hibbs". It adds a different dynamic.
I am chuffed for Richard getting a start alongside me in the front row. He has played brilliantly over the last few years and he deserves it. He has had a lot of injuries at the wrong times, and a lot of criticism. He's actually been quite positive, which is strange for him because he usually gets homesick after a day. I think he and Ian Evans were homesick at the training camp in Ireland before we left! I am sure he will be fired up on Saturday.
The last two days have been a god-send really, giving us a chance to get away from everything up here in Noosa.
I heard that Sir Clive Woodward said it was a silly idea, but he is not playing, so I don't think he really knows. To a man I think everyone has really appreciated the two days off.
Some of the boys went surfing and I gather Sean Maitland is pretty decent. Apparently Paul O'Connell is a good surfer too, but that's coming from Paulie, so I'm not sure I believe him. But he hasn't been able to do any here because of his broken arm.
I have been doing as little exercise as possible, as per usual! I have just tried to chill out. I went for food with some of the boys on Monday, and then we went to Steve Irwin's Australia Zoo on Tuesday. That was quite an experience. I got to hug a koala, a lovely little thing. I'd love a pet one.
I think everyone is feeling refreshed now. It was nice to actually train again on Wednesday, and I feel a lot better after that.
We have another session on Thursday and then again on Friday as we build up to the match on Saturday.
Everyone was absolutely gutted to lose so late in the game last weekend. I felt pretty bad after Wales' World Cup semi-final defeat in 2011, but last Saturday was definitely the worst I have felt after a match.
Because it was such a big build-up during the week, the downward spiral when you lose is that much worse. And you had to feel for Sam [Warburton] getting injured the way he did.
It sounded pretty horrible. I remember when [former Ospreys and Wales lock] Brent Cockbain did something similar years ago and had his hamstring ripped off the bone. He said it was the most painful thing he had ever done.
I'm not sure Warby's is that bad, but it didn't sound pleasant. That's the trouble with these finely-tuned athletes. They pull far too many muscles. But at 24 he is very young and I'm sure he will come back strong.
At least the rest of us have another chance this week. As Jonny Sexton said, you don't often get the chance to play another cup final when you have lost the week before. It is up to us to win it now.
Australia played well and we knew they would keep going to the end - that is a trait of theirs. But we realised quite quickly that we can play a lot better and there is a lot more to our game.
It is the biggest match of our careers, there is no point hiding from that. It is a massive occasion, but I don't think we have to find anything extra on an individual basis. We just have to refocus, play some rugby and put them under pressure.
To a certain extent I think we went into our shell a bit in the second Test, especially at 15-9 up. We could have kicked on and finished it off then.
I have read a lot of rubbish about momentum shifts but I don't buy into that.
As much as it is a Test series, they are all one-off games and we are confident we can still do it.