Tony Rowe: Exeter Chiefs can win Premiership and Heineken Cup
Last updated on .From the section Rugby Union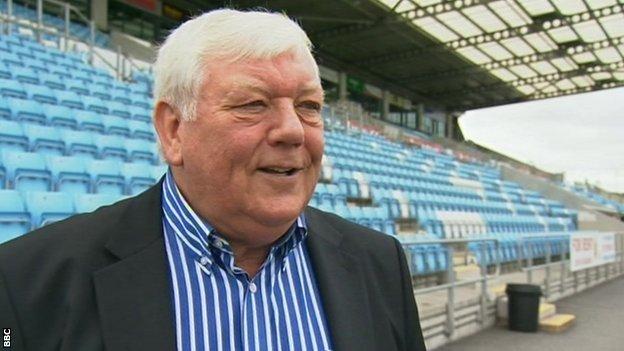 Exeter chief executive Tony Rowe believes winning the Premiership and the Heineken Cup are realistic targets for the club in the future.
"We've got ambitions for the future as we gradually build up," Rowe told BBC South West Sport.
"Perhaps one day winning the Premiership or the Heineken Cup, but you can't do it overnight."
Rowe added: "I believe we're very grounded here. We don't dream with Exeter, we do what we feel we can achieve.
"This is only our fourth season coming up, I'm still a bit cautious, we do things a bit at a time.
"We've got lots of time and lots of opportunities to build year on year."
Exeter, who qualified for Heineken Cup for the second successive year, are in the
"I'd like to think we have a fairly favourable draw with Glasgow and Cardiff," added Rowe. "It's in our own hands, we could get through to the next round.
"The players and the coaching staff put their own targets together, it's not a board decision.
"But I wouldn't mind betting that they target the quarter-finals of the Heineken Cup and obviously staying in the top six in the Premiership."