Craig Mitchell: Exeter Chiefs Wales prop given warning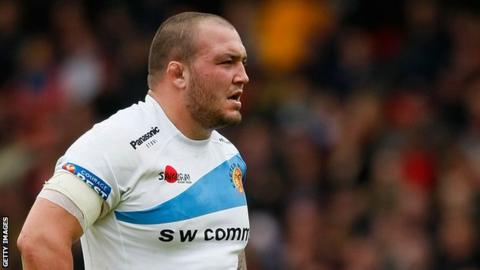 Wales prop Craig Mitchell has been given a written warning by the Exeter Chiefs following an internal hearing.
The 27-year-old was and given a six-month suspended sentence by Brisbane magistrates last week and fined A$1,800 (£1,094).
The club found Mitchell guilty of bringing the club into disrepute for the incident in a bar in Australia.
Exeter said in a statement that the prop could have his contract terminated if any similar incident occurred.
The Chiefs have not imposed a further fine on Welsh international Mitchell, who punched a man in Brisbane while following the British and Irish Lions.
The statement said: "Exeter Rugby Club chief executive Tony Rowe OBE, together with head coach Rob Baxter, have today reviewed closely CCTV footage and discussed in depth the incident involving first-team squad member Craig Mitchell.
"Following this review process, the club have found Craig Mitchell guilty of bringing not only the club, but also the game of rugby union, into disrepute.
"The club feel the six-month suspended sentence, together with the fine imposed on the player by the Australian authorities, is sufficient punishment.
"However, Craig Mitchell has been given a written warning by the club that should he transgress in a similar way over the next six months, then his contract with Exeter Rugby Club could be terminated at the club's discretion.
"The club once again re-iterates its previous stance that it does not condone law breaking of any kind and will continue to stress with all of its employees the importance of acting as positive ambassadors - even in difficult and unwanted circumstances."