Lewis Webb believes Launceston can challenge for promotion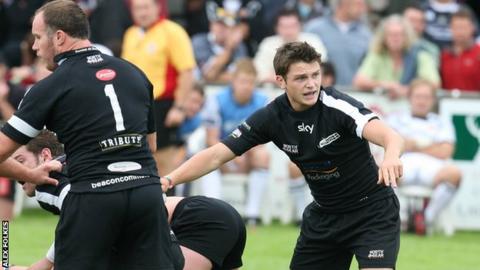 Launceston scrum-half Lewis Webb believes they are capable of pushing for promotion in National Two South.
The 25-year-old, who can also play fly-half and full-back, returns to Polson Bridge after a year spent travelling.
"The side was seen as a developing one last year and we want to lose that tag," Webb told BBC South West Sport.
"We've got to be striving for the top three, we've got a decent group of players and unless we push for the top we'll be seen as developing again."
The versatile back joined the Cornish Pirates while at Truro College before switching to the Cornish All Blacks in 2007.
"It's great to be back," he continued. "I missed it more than I thought I would and there's a really good buzz around the club at the moment.
"We've got a nice mix of youth with some old heads in key positions.
"I like the idea of playing fly-half but I'm happy to play wherever the team need me."