Changes to global rugby calendar proposed by players' body
Last updated on .From the section Rugby Union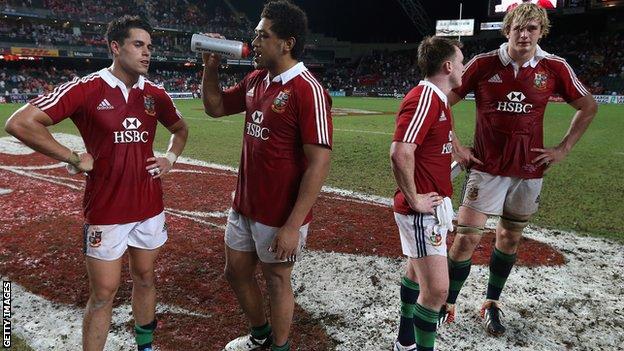 Rugby players are calling for a change to the game's calendar that would see the Northern Hemisphere season start a month later to ease demands on players.
The International Rugby Players' Association is also proposing that a Test match window currently scheduled for June be moved into July.
The changes are proposed for 2016, the year after the next Rugby World Cup.
"This is the ideal time to seriously consider change," said the IRPA's chairman Damian Hopley.
According to the IRPA, the proposals would allow more "breathing space" to prepare for the finals that take place at the end of the club rugby season, and allow better recovery time for international players.
Hopley, a former England international back who played club rugby for Wasps, said the time was right to look at changes to "secure player welfare initiatives."
"We're in a unique position - for the first time since rugby went professional, the major Northern and Southern Hemisphere competition and commercial structures are on the table at the same time."
The ideas have been backed by Ireland's Jonathan Sexton, who played at fly-half in all three of the British and Irish Lions' recent Tests against Australia.
"We see this initiative as beneficial for the global game," said Sexton. "From a player perspective, we urge our leaders to get in a room together, take a positive attitude and see what can be done."
The English Premiership and the Pro 12 season, which involves clubs from Wales, Scotland, Ireland and Italy, currently begin in early September with the finals played in late May.
Another proposal from the IRPA would see an end to the month-long break in Super Rugby, the southern hemisphere competition contested by 15 franchises in Australia, New Zealand and South Africa.
"The idea would also see the British and Irish Lions from the 2017 series in New Zealand onwards touring in a clear window after Super Rugby," added the IRPA, "with an improved ability to deliver full strength midweek games."
The strength of several of the Lions' Super Rugby opponents on the recent tour of Australia was criticised when many of the best home players were kept out of the teams that faced the British and Irish side.