2013 Lions: Sam Warburton hails 'prestigious' series win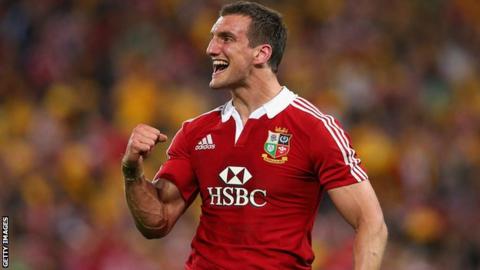 Captain Sam Warburton has described his British and Irish Lions team-mates as a "prestigious group" following their series win in Australia.
The Lions secured their first Test series win since 1997 with a 41-16 final Test victory over the Wallabies.
Warburton and his team-mates were welcomed home by more than a hundred fans at Heathrow Airport.
"It has been a long time coming this Lions tour so it is nice to come back with a trophy," Warburton said.
"It has only been done nine times in 125 years so all the players know they are part of a very prestigious group and are very proud of that."
The 24-year-old won the first of his 38 full Wales caps against the United States during the North American tour in 2009.
The Lions toured South Africa that summer and Wales skipper Warburton has reflected on his remarkable rise.
"It won't sink in for a long time, I think. It feels quite surreal being part of a Lions touring party," Warburton added.
"Only four years ago I got capped for Wales during the first Lions tour. I got on the development tour and I never thought I would be in this situation four years later.
"Maybe in a few months' time or a few years' time I might watch back a DVD and realise what we achieved."
The Cardiff Blues forward missed the third and final Test in Sydney after suffering a hamstring tear in the second Test defeat in Melbourne.
Watching from the sidelines at the ANZ Stadium, Warburton admitted he could not relax until the 75th minute.
"People might have thought I might have relaxed in the 60th-odd minute," Warburton added.
"But, being the pessimist I am and knowing Australia can always strike back with a few tries in a few minutes, I could not relax until it was five minutes to go.
"I figured out in my head that they had to get a try every 75 seconds to win, which I would have backed our defence on that one. That's the point I start smiling and celebrating."