2013 Lions: Scottish contingent sad about limited game-time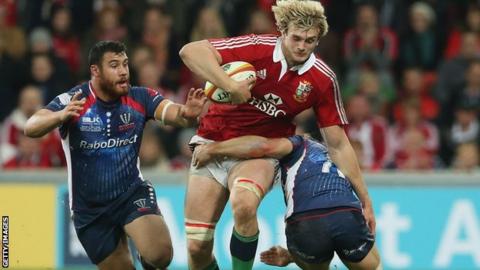 Richie Gray and Stuart Hogg say they are disappointed at their lack of involvement in the British and Irish Lions Test matches against Australia.
The four Scottish members of the Lions squad arrived back in Glasgow on Wednesday after a 2-1 series win.
Gray told BBC Scotland: "It's a tough one, obviously we would've all liked to have been involved a lot more.
"But sometimes that happens. We've learned a lot from the experiences and we've come back better players."
Gray, Hogg, Sean Maitland and Ryan Grant all featured in warm-up games on tour but failed to figure in the Tests.
The 23-year-old lock Gray, who signed for French Top 14 side Castres in May, made an appearance as 68th minute replacement in the series decider on Saturday.
But he was an unused substitute in the first Test and did not make the squad in the second Test.
"If you're not involved you can go up and ask how do I need to improve, how do I get into the team and the coach gives you good feedback," Gray said.
"It's not something I did. Obviously you review a game with your coaches, so I suppose I did in a way; they kind of drip feed things back into you."
However, Gray was in no way ungrateful for the chance to be part of such an "incredible" tour.
"Having the experience, not just over the last couple of days, but over the course of the whole event since we met up mid-May, has been unbelievable," he said.
"The most remarkable thing is how all these guys came together, guys you'd knock lumps out of during the season, come together and you have to forge this bond."
Despite featuring in warm-up games, Hogg did not make the bench for any of the Tests.
But the Glasgow Warriors player revealed he did get some pointers on where he was going wrong.
"The feedback was that I just needed to keep working harder at my game," Hogg said.
"I made a few mistakes when I was playing and a couple of those mistakes could win or lose the game.
"I'll take that on the chin and go back onto the training pitch and work harder."
Former Lions head coach Jim Telfer had expressed he, too, was disappointed the Scottish contingent were not used more.
And 21-year-old Hogg agreed with that opinion.
"That was a pretty valid point because our boys work incredibly hard - just as much as anyone else does," Hogg said.
"But it'll make us hungrier for the next time."