Adam Jones column: Celebrating Lions success with James Bond
Last updated on .From the section Rugby Union173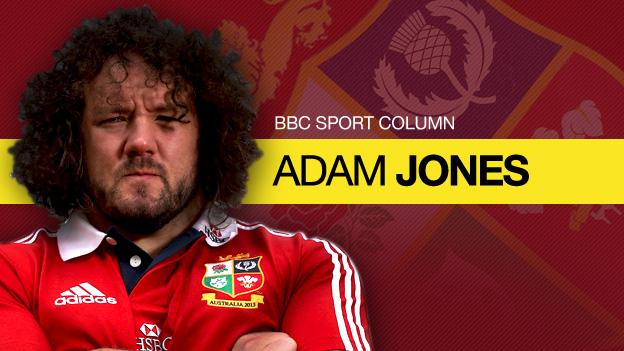 One week after the British and Irish Lions completed their historic series win over Australia, Wales' 32-year-old prop Adam Jones re-lives the aftermath of that glorious night in Sydney and looks ahead to the future in his exclusive BBC Sport column.
The feeling is so intense, it's something you want to hold on to for as long as you can.
But when you have a two-year-old little girl running around, climbing everywhere, it brings you back to reality pretty quickly.
When the final whistle blew in Sydney, my first thoughts were of my family - my wife Nicole, daughter Isla, and both sets of mums and dads up in the crowd.
I was looking for them out on the field to try and share that moment but I couldn't find them anywhere. It turns out they were stuck up in the gods somewhere, which was a bit annoying.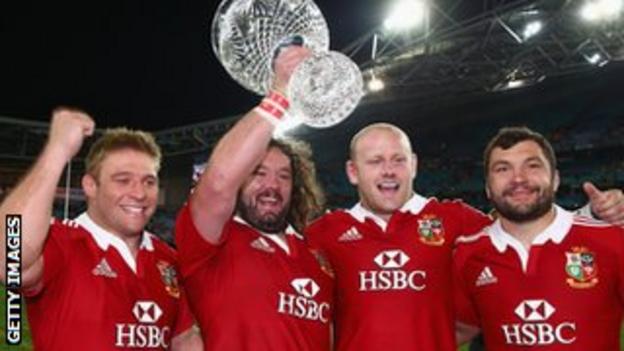 We did a lap of honour and all the formalities on the pitch but as soon as we walked in the dressing room it was crazy, with champagne flying everywhere.
James Bond [actor Daniel Craig] was there as well, so that was pretty good.
It was quite strange. When you win these type of games you want to be in the changing room as long as you can, you don't want it to end, so we stayed in there pretty late just drinking and celebrating and trying to take it all in.
I eventually met up with Nicole at the dinner after the game and then all the boys and their partners headed out on the town.
We had just beaten Australia. It was a long night, and a happy one, but nothing much happened - to be honest everyone was shattered.
I've been home in Abercraf since Wednesday and it still hasn't sunk in yet.
When we got back to the Vale there was a school choir there and a few cameras but that was all really. It's not quite like the olden days, is it?
So I have just been relaxing with my family.
My agent has been on the phone a couple of times to see if there is anything I want to do but I'm not sure if I will... I'm just waiting for my MBE in the post!
I'm going to Dubai for a week and staying away from all things rugby until I report back for training on 5 August with the Ospreys.
There was a lot of pressure going into that final game. We knew we were capable of beating Australia.
We thought we could beat them well - but maybe not as well as we did!
There was a lot of build-up in the week, especially with Brian O'Driscoll not playing and so many Welshmen in the team. That distracted everyone from the game a little bit.
It was nice to repay the faith [Lions and Wales coach] Warren Gatland had in us. It was nice to get a big win for him.
"Gats" took a lot of stick for that decision. Brian is a legend, the greatest player I've ever played with, and it takes a pretty ballsy guy to drop him. "Gats" did it, he did it for the right reasons, and obviously it paid off.
I've been sat next to Brian on the back of the bus for the last two months and have got to know him pretty well.
He was straight back in, working his socks off, and trying to help the team.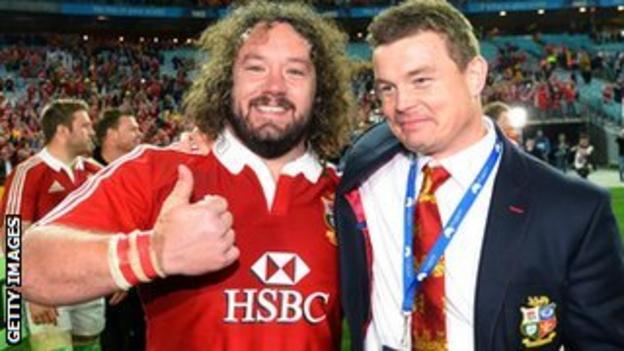 He spoke to us at training and said the team had been picked to do what it was good at, and told people like Jamie Roberts and George North to run as hard and straight as they can.
Everyone respects Brian O'Driscoll, but for him to speak like that at probably the most difficult point in his career speaks volumes of the man.
Can anything top winning a Lions series?
I don't think so but maybe winning the World Cup with Wales in two years would come close.
I'm decently happy with the amount I've won in Grand Slams and championships but I'd like to make the next World Cup.
I fully understand if "Gats" wants to blood new players before then. If it's the case that he wants me to finish, I'll finish.
I'd be happy with my lot, but I would like to get 100 caps and win the World Cup and that will be me done then.