Marlon Devonish: Olympic athlete to train Gloucester squad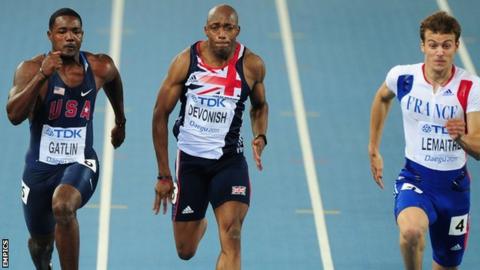 Olympic athlete Marlon Devonish has been brought in as a sprint coach to work at Premiership club Gloucester.
Devonish announced his retirement from competing last month after winning 18 major international medals, including gold in the men's 4x100m relay at the Athens Olympics in 2004.
The 37-year-old has now been hired to improve the speed and performance of Gloucester's backs.
"I've been asked to come down to teach them how to run faster," he said.
"Speed is crucial in most sports and it's a skill that can be learned.
"I'm not going to get them running as technically as I would but I feel there's certain attributes that will cross over into different sports.
"It's going really well so far. They're a great bunch of guys - really coherent and ready to learn - so it's really exciting."
Three-time Commonwealth gold medallist Devonish was asked to coach the squad by Paddy Anson, the club's head of strength and conditioning, and has spent the last three weeks with the players.
"The bottom line is Marlon is an expert in speed, he's done it all his life," Anson told BBC Gloucestershire.
"We've got a very quick back line, we've got potentially a lot of England players in that back line, so we have to give them the best coaching we can. I'm certain Marlon will be the person to do that."