Welsh rugby makes a fresh attempt to form game board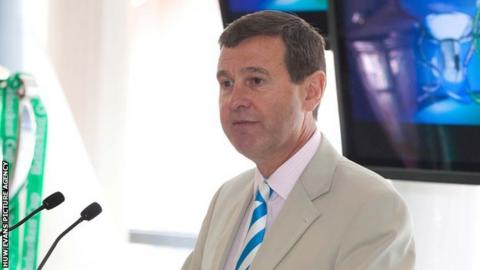 The Welsh Rugby Union and the regions have made a fresh attempt to form a Professional Regional Game Board..
The development comes seven months after the first, failed, attempt to form a PRGB.
A centring on star Wales wing hampered the initial initiative.
"Our first meeting was very constructive indeed," said WRU chief executive Roger Lewis after the first meeting of the newly-formed board.
The first PRGB was set up in December, 2012 to oversee professional rugby in the wake of an independent report into regional rugby by accountants PricewaterhouseCoopers.
That report was critical of the way Welsh rugby operated.
But North's situation highlighted the regions' financial plight as they and the WRU continued a sometimes heated public debate about how the game should be run and organised.
In June and in a statement issued by the WRU in the wake of the fresh board's first meeting he was upbeat.
Lewis, said: I am confident it will be an active and meaningful forum through which positive changes can be achieved.
"Our aim is to ensure we use our combined expertise and knowledge to develop the right systems and structures, adopt best practice and identify synergies of mutual benefit.
"The creation of the Professional Regional Game Board is testimony to our determination to work together in the best interests of the Regional game in Wales."
Regional Rugby Wales chief executive Stuart Gallacher echoed Lewis' sentiments, adding: "
"All four regions have made significant progress towards establishing a sustainable business platform over the last two years and hope to be able to build on that work with the support of the WRU.
"Our first meeting was certainly constructive, so we look forward to the board providing a real and tangible contribution to the goal of sustainable and competitive professional rugby in Wales."
The PwC report suggested some of the four regions might not survive their financial plight and criticised "poor management".
After assessing the regions' finances up to April 2012, PwC recommended more collaboration between the WRU and regions - the Ospreys, Scarlets, Cardiff Blues and Newport Gwent Dragons - to balance the books, "enforced" by a new management board.
And that recommendation has been taken on board following the PwC report which was commissioned by the WRU and agreed by the regions in December 2011.
The new PRGB will comprise of five WRU representatives and an equal number of regional voices.
It will be chaired by non-voting High Court judge, Sir Wyn Williams and its remit will be:
• Regional player contracts and recruitment policy
• Academy structures and associated player development
• The marketing of Regional rugby
• Collective Regional Revenue opportunities and resource management
• Regional financial planning and best practice
The regions' representatives are Cardiff Blues chairman Peter Thomas, Scarlets chairman Nigel Short, Newport Gwent Dragons chairman Martin Hazell and Ospreys managing director Roger Blyth.
They will be joined by Regional Rugby Wales chief executive Stuart Gallacher.
WRU chief executive Roger Lewis, chairman David Pickering, finance director Steve Phillips, head of rugby Joe Lydon and legal affairs head Rhodri Lewis will air the governing body's views.