Leicester Tigers: Richard Cockerill not worried by ban impact
Last updated on .From the section Rugby Union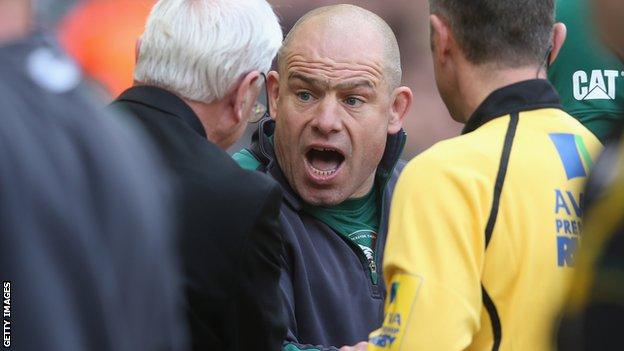 Leicester Tigers director of rugby Richard Cockerill insists his ban at the start of the Premiership season will have limited impact on the team.
"We will just get on with it, work hard and I'm not overly concerned about it," he told BBC Radio Leicester.
Tigers have appealed and the case will be heard at a Rugby Football Union disciplinary hearing on Monday.
The appeal against the ban imposed on Cockerill following his exchange with fourth official Stuart Terheege will be heard in London by a three-man panel of Gareth Rees QC (chair), Jeremy Summers and Dr Julian Morris.
But whatever the outcome, Cockerill says he has faith in his coaching team of Paul Burke, Richard Blaze and Geordan Murphy.
"My job is to worry about coaching the side and get everything prepped here," Cockerill added. "As it stands I will miss the first nine games of the season but we have good coaches and the reality is most, if not all, of the prep is done during the week.
"I don't go out there and play. I am not scrummaging, kicking the goals or affecting the play. We have coped with it [Cockerill being suspended] before so I am sure we will be fine again.
"On match days the players will take the lead. We have some very experienced players who have played a lot of Test match rugby, and a lot of rugby here in lots of big games.
"Will it affect us or not? I don't know. But we will just get on with it."