Edinburgh: Tim Visser wants long-term plan as new coach arrives
Last updated on .From the section Rugby Union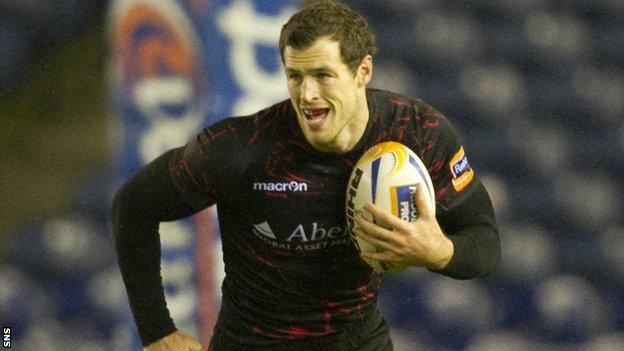 Edinburgh will announce their new head coach on Tuesday, with winger Tim Visser urging the new appointment to usher in long-term continuity.
The Murrayfield outfit finished third bottom of the Rabodirect Pro12 last season, leading to the in March.
"It's important to get someone that's perfect for the job," said Visser.
"They can do the job medium to long term and put some real fundamentals in place to progress the club."
Stevie Scott and Duncan Hodge oversaw the final weeks of last season, but Visser believes the Edinburgh players can adapt to yet another change in leadership.
"We've had various coaches coming in and out of Edinburgh and we're kind of used to that now," said the Dutch-born Scotland international.
Visser said the new coach must solve the mystery of a slump in form from the previous season.
"Last season was particularly disappointing for us considering the season we had before," he told BBC Scotland.
"Reaching the semi-final of the Heineken Cup gave us hope of building upon that last season.
"It means that this season is a fresh start for us and we don't necessarily have anything to build on.
"Sometimes things click and sometimes things don't and we had different things going wrong in different games and nothing we could put our finger on."
expects the new coach to make significant changes.
"They are going into it after a very poor season, we're making some changes to the player rosta and I think the new coach will have some new ideas about how Edinburgh play," he said.
"I expect them to be much more competitive this season."
Dodson thought there were several contributory factors to Edinburgh's poor showing.
"It was a number of things," he said. "There was certainly a crisis of confidence, but in terms of preparation and in terms of the execution of the game plan, they had problems around all those issues and that's why we made some changes.
"And we expect the new coach to be pretty ruthless about how he goes about making sure we improve this season.
"Staying the same is unacceptable. We hope we're going to drive Edinburgh forward.
"There's a lot of quality in that squad and a lot of guys are hurting after last season and will be out to make sure it doesn't happen again."