Jersey can make Premiership within five years - Ben Harvey
By James Hand
BBC Radio Jersey, Kick Off reporter
Last updated on .From the section Rugby Union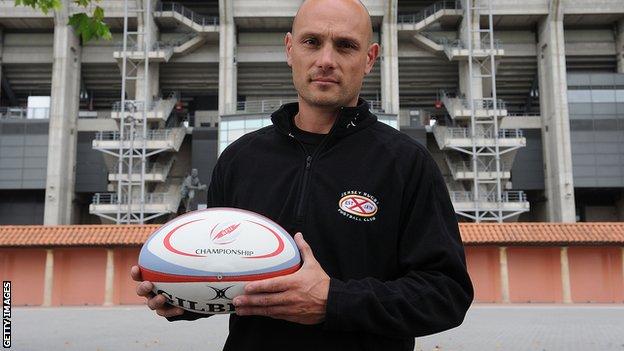 Jersey director of rugby Ben Harvey believes the club can reach the Premiership within five years.
The islanders finished second from bottom of the Championship in their first season in the second tier after
Harvey has brought in a raft of new players this summer to bolster promotion hopes for the coming seasons.
"I wouldn't be betting against it," he told BBC Radio Jersey.
"Anyone who thinks that in five years' time we're not playing in the Premiership, I'd like to see where they'd put their mortgage money."
Less than a decade ago Jersey were playing at level seven of the English rugby pyramid, but Harvey is confident of continued success despite last season's relegation tussle.
His players are back in training for their first campaign as a fully-professional outfit, and their pre-season fixtures begin with the
Harvey has been working with Harlequins coaching staff in an effort to garner more top-level experience, but insisted that fixtures such as the visit of Tigers would soon not be a rarity.
"It's my aim, that's the goal of the club," he added.
"If we believe in it strongly enough and we work hard enough then we'll get there."
It has been a busy few months for the islanders, with new faces from clubs such as Cornish Pirates, Glasgow and Lazio appearing at St Peter since the end of last season.
Star local player Michael le Bourgeois went the other way and in April, but Harvey has always maintained the side's escalation would not be at the expense of home-grown talent.
"I've said from word go we'll go as far as the best Jersey-born players," he said.
"My honest belief is with a lot of hard work they can play in the Premiership.
"We know how hard a journey it is, but we also know how important our crowd has been in making sure we get there.
"We're confident we can go home and away and beat everyone in the league."
In addition to the visit of Tigers, Jersey host Coventry on 31 August before kicking off their league season against Plymouth Albion at Exeter's Sandy Park on 15 September.