Exeter Chiefs: Rugby's under the radar success story
By Phil Harlow
BBC South West Sport
Last updated on .From the section Rugby Union55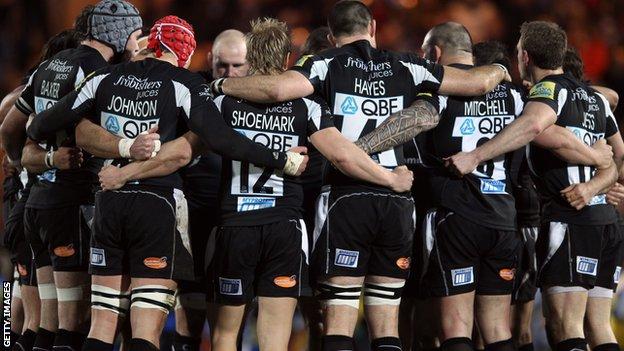 Eight seasons ago, Exeter Chiefs were sharing a stadium with the local speedway team and had never played in the Premiership.
Now they are an established force in English rugby's top flight and about to compete in the Heineken Cup for the second year in a row.
The transformation has been remarkable, especially when you consider that it has been achieved without spending lavish sums or signing star players.
Rob Baxter has been there through it all - first as a player for the Devon club for 14 years and, since 2009, as their highly respected head coach.
The 42-year-old has kept faith with many of the players who helped get the club out of the Championship in 2010, avoiding the trolley dash approach of some newly promoted sides.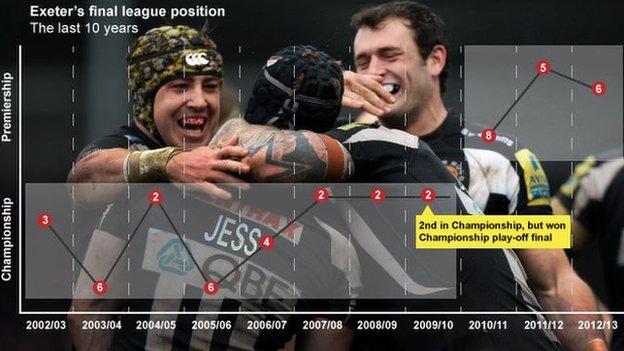 "I'm a big believer that playing against better players improves you, no matter who you are," the former second row says. "We've really driven that home to the players and have never chopped and changed the team too much.
"The mindset going into every game needs to be ambitious: that you want to experience every minute and not go into damage limitation mode.
"Over a period of time that's allowed us to develop a little bit quicker than people might have thought."
One of the players who was given that chance is fly-half Gareth Steenson, who kicked the goals in the two-leg play-off victory over Bristol that booked Exeter's passage to the Premiership in 2010.
The 29-year-old has repaid that faith many times over, scoring 456 points for the Chiefs in the Premiership.
"We've got a lot of fellas who work hard and we all work as a unit together," he explains. "We're all on a journey together. We've obviously lost guys along the way and new guys have come in, but we have a core who work hard and you can see that on the field.
"There will be superstars playing at other teams, but here it's about working together. It's never about one individual. When you start worrying about the individual above the team, that's when problems can start to arise."
Indeed England's latest Elite Playing Squad did not contain any Exeter players and only flanker Tom Johnson and full-back Jack Nowell made the second-string Saxons squad, although Baxter himself was seconded to work as a coach on England's summer tour to Argentina.
The Chiefs do have other Test players in the shape of newly appointed captain Dean Mumm (Australia) and Wales internationals Craig Mitchell, Tom James and Ceri Sweeney.
But they are intent on creating their own star names. Exeter's academy network, with bases in Truro, Ivybridge and Bicton, is able to draw on the rich talent pool in the south west and the club had four players - Nowell, fly-half Henry Slade, centre Sam Hill and hooker Luke Cowan-Dickie - playing in the final for England Under-20s as they won the Junior World Cup in the summer.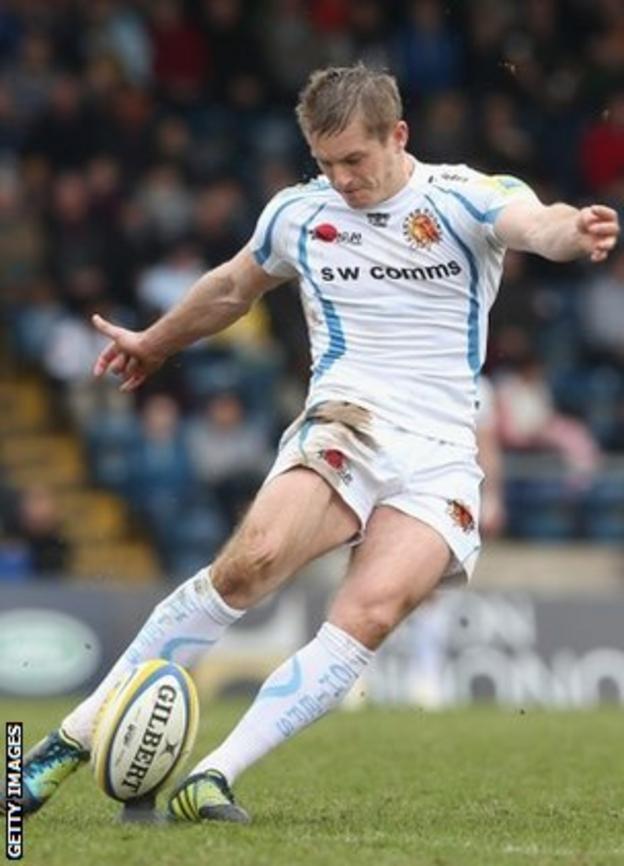 "It's a conscious policy but it's also money," says chief executive Tony Rowe. "We want to produce our own players and uncover our own talent."
When the Chiefs do sign a player, they make sure they know what sort of person they are bringing to the club as personalities as well as what he can offer in the scrum, line-out or with ball in hand.
"We have a very strong player group here already and what we find is that as long as we've done enough research, they buy into what the rest of the group are doing," says Baxter. "Character is important."
With Exeter now firmly established in the top flight, Baxter is determined that the Chiefs continue to develop.
"We want to be a top-four side, playing in the semi-finals and finals of competitions. It's about pushing forward the culture as a group to make those things happen somewhere down the line," he says. "We do need to have a group of players and a set-up that allows us to keep moving forward."
The club have made great progress since the days when they shared the 5,000-capacity County Ground with the Exeter Falcons speedway team.
In 2006 they moved to Sandy Park, a ground with sufficient capacity to see them accepted into the Premiership, which holds 10,700. This is one of the lowest capacities in the Premiership though, and the club have planning permission to develop the ground to hold around 20,000 people. Sandy Park has even been selected to host matches at the 2015 World Cup.
The stadium doubles up as a conference venue for wedding fairs and exhibitions, ensuring a stream of income aside from rugby, and Plymouth Argyle owner James Brent has said he would like to adopt the same model as he develops Home Park.
Rowe, a former Royal Marine who also set a British waterspeed record on Lake Windermere, says: "The jam and the cream on top is the 20 times a year when we can fill the place for games - not just the stands but also all the hospitality.
"That's where the big money is and we've got to do that if we want to progress. Everything in sport these days depends on money."
The Chiefs have made an operating profit every year they have been in the top flight - putting them very much in the minority among Premiership clubs - and are confident of announcing another six-figure profit for the latest financial year. They have also got closer and closer to the salary cap every year and almost spent to the limit last season.
"I believe we're very grounded here," says Rowe. "We don't dream at Exeter - we only do what we know we can achieve. I say to people we don't dream because you can wake up from dreams and discover it was a nightmare.
"I think the media and some clubs thought we were just a flash in the plan but we were always very confident that once we got up we'd stay there."
Nevertheless, Rowe says winning the Premiership and Heineken Cup trophies to Sandy Park are realistic long-term targets.
"It's the kind of pressure you want to be under," insists Baxter. "We're very aware it's about steady development and that's what we've done very well.
"There's no point having a 20,000-seater stadium if you're losing every week on the pitch. We've got to keep the balance right - we've done that very well so far and I think the key to ongoing success is that we continue to do that."